Sept 24-25

Geary Avenue
From Ossington to Dufferin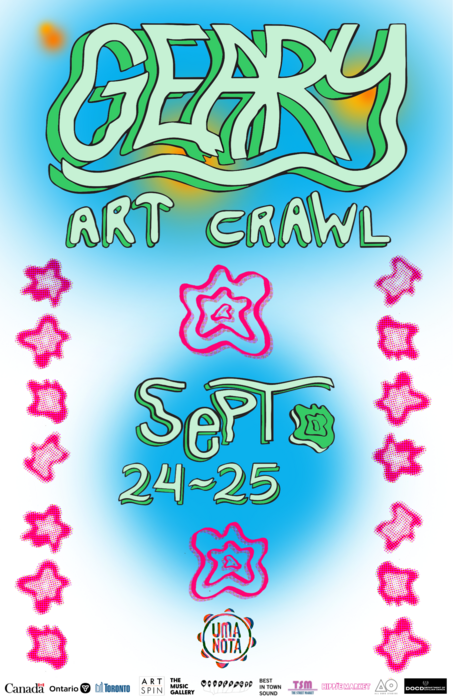 Sept 24-25

Geary Avenue

From Ossington to Dufferin

1:00PM

All Ages

Free
The Geary Art Crawl is back!
Wavelength is very excited to be a programming partner this year and present FIVE FREE SHOWS over 2 days at this year's west-end street fest:
Ata Kak (from Ghana!)
Ada Lea (Montreal)
BSÍ / Brussel Sprouts International (from Iceland!)
Sheenah Ko (Montreal)
Cots (Guelph)
On September 24th and 25th the Geary Art Crawl will close down Geary Avenue to traffic for two beautiful days and nights of art, music, film, food, vendors, fashion, thrifting, dance, installations and so much more.
Produced by Uma Nota Culture with programming by partners Art Spin, All Ours, Wavelength, The Music Gallery, Best in Town, Last Planet and more.
Timing varies by location and activity. Schedule coming soon.
Funded by the Government of Canada through the Department of Heritage, the Province of Ontario and the City of Toronto.
More info here: https://www.gearyartcrawl.com/
Poster by Julia Dickens ✨✨