May 27

Horseshoe Tavern
370 Queen St. W.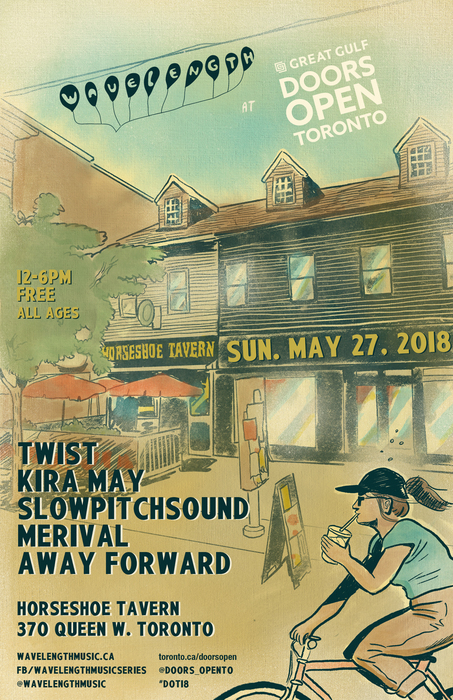 May 27

Horseshoe Tavern

370 Queen St. W.

12PM

All Ages

FREE
Wavelength at Doors Open Toronto
featuring:
Twist (Buzz Records fuzzy garage pop)
Kira May (electro art pop)
SlowPitchSound (experimental sci-fi electronica)
Merival (hushed indie folk)
Away Forward (guitar-driven dream-pop, members of Mean Red Spiders & Soft Copy)
Sunday, May 27
Horseshoe Tavern – 370 Queen St. W.
12-6PM – FREE – All Ages & Licensed.
Wavelength returns to "Doors Opens to Music"!
Wavelength Music returns for our second year as a curator of the "Doors Open to Music" series at Doors Open Toronto, the annual exploration of the most architecturally, historically, culturally and socially significant buildings across the city. As part of this year's celebration of iconic music venues in Toronto, Wavelength will program an all-local music afternoon on Sunday May 27 at the legendary Horseshoe Tavern, which celebrated its 70th anniversary last fall.
The Doors Open/Wavelength concert event features an inspired mix of art-pop, fuzzy garage rock, singer/songwriter indie folk, dream pop and experimental electronics by dynamic young Toronto artists Twist, Kira May, SlowPitchSound, Merival and Away Forward. The event is free admission, and open to all ages. Other curators & artists participating in the "Doors Open to Music" series include 159 Manning, Indigenous Voices & Rhythms, Jazz at Market Gallery, and OKAN. More info here.