May 25

St. Anne's Parish Hall (Lower Hall)
651 Dufferin St., Toronto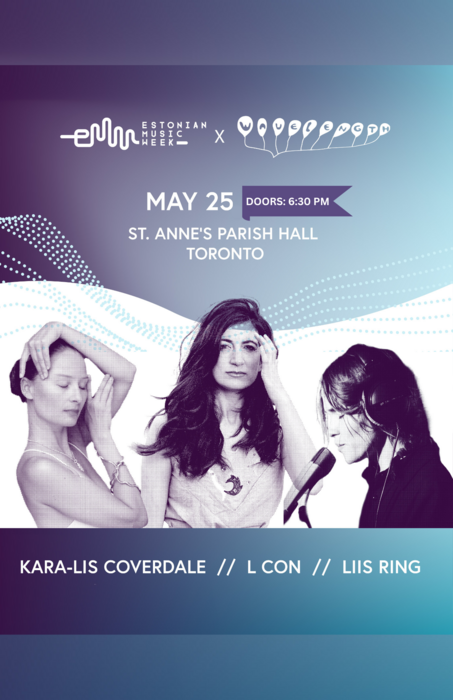 May 25

St. Anne's Parish Hall (Lower Hall)

651 Dufferin St., Toronto

6:30pm

All Ages

$22 adv
Wavelength presents
In partnership with Estonian Music Week
Kara-Lis Coverdale
(Montreal // borderless sonic explorer)
+
L CON
(Toronto // avant-pop dramatist // 'The Isolator' album launch!)
+
Liis Ring
(Tartu, Estonia // birdwatcher/(sound)artist/idealist)
As part of the Wavelength Monthly Music Series
Thursday, May 25, 2023
@ St. Anne's Parish Hall (Lower Hall), 651 Dufferin St., Toronto
Doors 7pm
$22 advance plus taxes and fees at Eventbrite
Ticket link: bit.ly/WL-EMW
ALL AGES + Licensed
Estonian Music Week is back with a full festival format for their 5th anniversary, bringing an eclectic mix of Estonian artists to Toronto and Hamilton for a series of shows from May 24 to 28. Wavelength is honoured to be partnering with Estonian Music Week for their two-stage extravaganza at St. Anne's Parish Hall. One ticket gets you access to both stages; while folk music reigns supreme upstairs, join us downstairs for some ambient, electronic exploration.
Driven by a patient devotion to sonic afterlife, memory, and material curiosity, Kara-Lis Coverdale's dynamic work occupies new planes built upon a borderless understanding of electronic music with roots in several interlocking musical systems and languages. Coverdale's work has been met with consistent critical acclaim. Coverdale's recordings are incredibly considered and often understated, but her live shows can evoke the unpredictable, chaotic, eerie, dynamic, and confrontational; all for which she has earned a steady reputation as a festival favourite (The Guardian, The New York Times, RA, The Fader) as a highly dynamic and explorative artist, resistant to categorization and stasis.
Toronto's own Anne Bourne will be accompanying Kara-Lis Coverdale on cello for their performance. A long-time collaborator with minimalist pioneer Pauline Oliveros, on their own the electroacoustic composer/ improviser creates emergent streams of microtonal cello and voice, acoustically and in spatialized multichannel sound installation.
L CON // Lisa Conway-Bühler (b. 1988, Canada) is a Swiss-Canadian composer, sound artist, songwriter, producer, and mix engineer. Her recordings have been described as "ethereal, minimalist, experimental, unnerving…and downright elegant" (AUX), with the Toronto Star claiming, "Conway is bound for greatness, even if she doesn't realize it yet." A conflicted record bouncing between romanticism and the loneliness of navigating the layers of your identity, 'The Isolator' dials into the stories we've internalized about nationality, home, our families, and ourselves.
Liis Ring is a musician, (sound) artist and photographer who divides her life between the west coast of Sweden and the southeast corner of Estonia. Her music balances between the genres of art pop, singer-songwriter and ambient where field recordings are blended with electronic and acoustic instruments. Her live sets are a mix of pre-composed and improvised material, taking the audience on a vivid journey across genres. Liis Ring has performed as a solo artist in 12 different countries, created music and sound design for several theatre productions and released two LPs and two EPs. Her albums have been well received by local music critics and brought her a following among the Estonian alternative scene.
COVID Protocols:
Masks recommended. Though we have returned to in-person events, we acknowledge the pandemic is still ongoing. In the spirit of community care, mask-wearing is requested at Wavelength except when eating or drinking. A supply of free KN95 masks will be available at the door. Rapid tests will also be available, if audience members wish to test prior to entry. If you are experiencing symptoms of COVID-19, please stay home. Thank you for your understanding and compassion!
Accessibility:
St. Anne's Parish Hall is not currently wheelchair accessible due to stairs (one half-flight to the main entrance, and one flight to access the washrooms). For all other accessibility requests, please contact us at info@wavelengthmusic.ca.
Audience Policy:
Wavelength respects the rights of each member of our diverse audience and is committed to providing an environment in which everyone can feel safe. Any behaviour which could reasonably be perceived as physically, emotionally, or mentally harmful to individuals at Wavelength events will not be tolerated. This includes: racism, sexism, homophobia, transphobia, body shaming, ableism, ageism, and all forms of violence.
Please be respectful of others and help Wavelength create a fun and safer space for everyone. If you need help, or see others in need of help, please talk to a Wavelength staff member or volunteer.
Ticket Purchase Policy:
Please note that all ticket sales are final and non-refundable. We may occasionally offer ticket refunds in limited circumstances, such as events that are canceled, postponed or rescheduled.