Sept 28

Array Space
155 Walnut Ave, Toronto
7:00pm
All Ages
$10 Advance | $15 at the door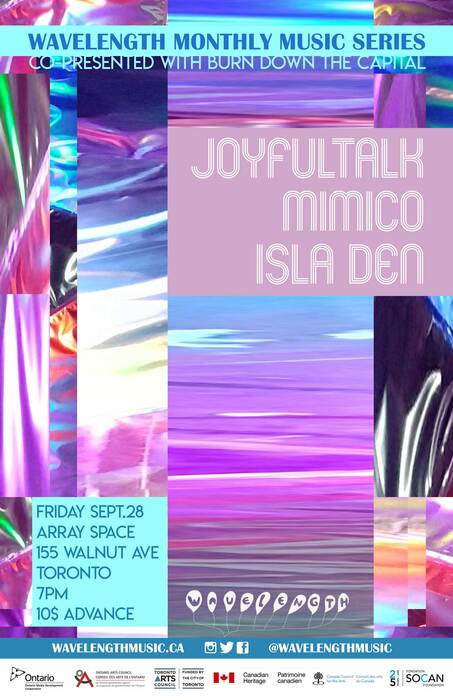 Sept 28

Array Space

155 Walnut Ave, Toronto

7:00pm

All Ages

$10 Advance | $15 at the door
Wavelength Monthly Music Series – September 2018
JOYFULTALK
MIMICO
Isla Den
Friday, September 28
Array Space – 155 Walnut Ave, Toronto
EARLY SHOW! Doors 7:30pm, over by 11pm
🎫 All Ages/Licensed – $10 Advance at
ShowClix
🎫
⚡️ Admission included in Wavelength Passport ⚡️
Physically Accessible Venue.

The September 2018 installment of Wavelength's monthly music series features JOYFULTALK: A junked-analog duo from a secluded outpost on Nova Scotia's mythical South Shore. JOYFULTALK conjure micro-climate trance music. The brainchild of instrument builder and jazz-fried alchemist Jay Crocker, JOYFULTALK offer up new concepts on regionalism. Admittedly influenced by the craggy treelines and flowing rivers of Lunenburg county, Crocker and multi-instrumentalist Shawn Dicey's gnarled jamscapes render natural spaces in a hazy parallel. Their new album Plurarity Trip, released on pioneering independent label Constellation Records, is "totally mesmerizing," according to The Line of Best Fit.
They are joined by MIMICO: a Toronto based post-punk indie trio creating psychedelic ambient synth rock melodies to melt your brains, plus Isla Den, a Toronto electronic duo whose lush sound exists in a space somewhere between dreaming and waking up after washing ashore on a distant planet.
Co-presented with Burn Down the Capital, this event will take place at Array Music, located close to Trinity Bellwoods Park, Array Music seeks out to create a space to ignite and sustain a passion for contemporary Canadian musical art.