August 30

Evergreen Brick Works
550 Bayview Ave
6pm
Mature Content
Free/PWYC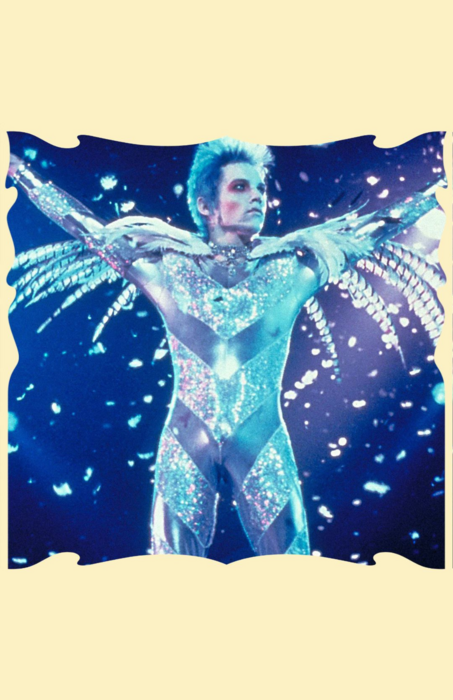 August 30

Evergreen Brick Works

550 Bayview Ave

6pm

Mature Content

Free/PWYC
August 30 2023
Doors 6pm
Showtime 8pm
@ Evergreen Brick Works
Celebrating its 25th anniversary this year, Todd Haynes' Velvet Goldmine transports us to London and New York of the early 70s, when underground and glam rock artists like David Bowie, Iggy Pop, Lou Reed, and Queen were taking both sides of the Atlantic by storm. But rather than give us a straight biopic of one of these icons, the film focuses on the fictional Brian Slade (Jonathan Rhys Meyers), an enigmatic David Bowie-esque figure who fakes his own death to withdraw from public life. To explore Slade's history, Haynes adopts the plot structure of Citizen Kane, with a pitch-perfect Christian Bale as Arthur Stuart, a gay journalist tasked with uncovering the mystery by interviewing people from Slade's life, including his friend/rival/former lover Curt Wild (Ewan McGregor) and his ex-wife Mandy Slade (Toni Collete), both actors giving career-best performances. In doing so, Haynes Queers the canonical Kane, and weaves a rich intertextual tapestry of references to Queer culture – crucially, Slade's own Rosebud is not a memento of his childhood, but a piece of jewelry once owned by Oscar Wilde (which may or may not have been given to Wilde by aliens from another planet).
Wednesday, August 30, 2023
Venue: "The Pavilions" of Evergreen Brick Works – entry at site of 550 Bayview Ave
Admission: Free/PWYC (no ticket required to attend)
Donations make TOPS programming possible (click here)
Event details:
Eats & Treats @ 6 pm / Showtime @ sundown (~ 8:00 pm)
Food & alcoholic beverages for sale (no outside alcohol permitted)
BYOBlanket & Chairs
Films are screened with captioning
Please click to read about additional accessibility features
Content advisory: This programme is intended for mature audiences and contains sex & nudity, coarse language, alcohol/drug use, and mild violence.
Programme note by Toronto Outdoor Picture Show