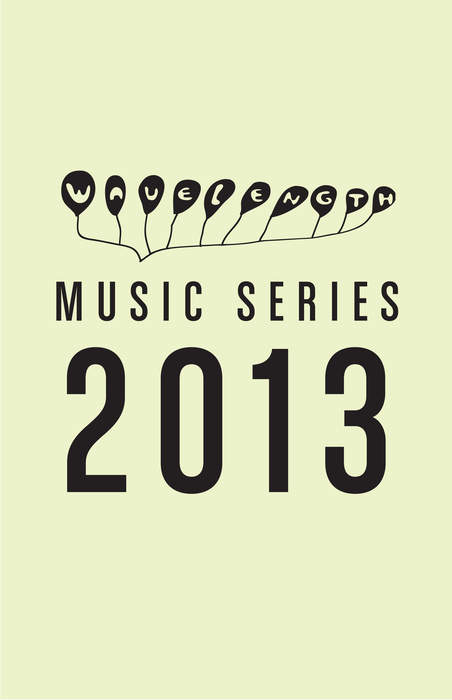 Sep 10

The Garrison

9:00 PM

19+
Wavelength & TIFF's Wavelengths series present:
LICHENS
Live musical performance by American spiritual drone music master Robert A.A. Lowe – "star" of TIFF/Wavelengths film A Spell to Ward Off the Darkness (Ben Rivers & Ben Russell)
with guests:
Sing Leaf (Toronto simmering swamp pop)
HVYWTR (Toronto glimmering soundscape beats)
PLUS! Just added: The legendary Brooklyn now-age psych-dance psisters!
PRINCE RAMA (DJ set)
Tuesday September 10
Doors 9pm (Lichens performs at 11:30pm)
The Garrison (seated show)
1197 Dundas St. W.
Tickets $10 advance at Ticketfly.ca + Rotate This + Soundscapes
Or $12 at the door
BUY TICKETS NOW!
Lichens
New York-based Robert Aiki Aubrey Lowe is an artist and multi instrumentalist that works with voice in the realm of spontaneous music often under the moniker of Lichens. Most recently, creating patch pieces with modular synthesizer and singing to them has been a focus of live performance and recordings.
Quality of sound through the marriage of synthesis coupled with voice has allowed for a heightened physicality in the way of ecstatic music, both in a live setting and recorded. The sensitivity of analogue modular systems echoes the organic nature of vocal expression which in this case is meant to put forth a trancelike state. To usher in Deep Listening through sound and feeling. Losing one's self in sound while being acutely self aware.
By way of a recent meeting and collaboration with artist Patrick Smith, Robert has begun to utilize projections with live performances. The current video piece is called "Clouds" which is a vector driven animation made by Patrick Smith.
Through collaboration Robert has worked with Ben Russell, Ben Rivers, Rose Lazar, Hisham Akira Bharoocha, Tarek Atoui, Ben Vida, Mark Borthwick, Lucky Dragons, Alan Licht, Michael Zerang, Doug Aitken, Patrick Smith, Monica Baptista, Lee Ranaldo, White/Light, Kevin Martin, Chris Johanson, Tyondai Braxton, David Scott Stone, Genesis P-Orridge and Rose Kallal, as well as many others.
A Spell to Ward Off the Darkness
The first feature-film collaboration between internationally celebrated artist-filmmakers Ben Rivers (Two Years at Sea) and Ben Russell (Let Each One Go Where He May) has yielded an intriguing ethno-trance aesthetic that finds its stunning summation in their much anticipated co-directed feature A Spell to Ward Off the Darkness. An immersive, at times mesmerizing experience, Spell follows a nameless protagonist — played with Bressonian restraint by musician Robert A.A. Lowe, of Lichens and Om fame — as he explores three markedly different existential options: as a member of a fifteen-person commune on a small Estonian island; living alone in the breathtaking wilds of northern Finland; and as a singer-guitarist for a neopagan black metal band in Norway.
Shot on Super 16mm by Chris Fawcett (the Steadicam operator for Let Each One), Spellis awash in atmosphere, bathed successively in natural, incandescent sunshine, the blues of a perpetual magic hour, and the stroboscopic concert lighting of a dingy bar. Liberated from conventional narrative causality, Robert's trajectory charts a continuous drift (superbly conveyed by a floating camera) that signals a radical investigation of the self, an enigmatic effort to "ward off the darkness" that is engulfing our increasingly secularized world. Is this a search for fulfillment, mutual understanding, a gesture to quell boredom and unremitting solitude, an affront to utopianism, or simply a natural progression through life?
Choreographing the movements of their non-actors, Rivers and Russell explore a participatory ethnography with both their real-life characters and us, the viewers, drawing deeply from the elemental in order to shake us from our viewing habits. Bound by the structures that inevitably dictate our lives, it's easy to forget that the world is vast and ripe with possibilities, and that we should probably attempt a few alternate modes of existence before we leave this Earth behind.
Sing Leaf is the recording project of Toronto's David Como. The live band is currently a four-piece electronic/acoustic setup. Featuring sampler, guitar, synthesizer (Justin Castator), bass (Shane Fester), and live drums (Pat Bramm) alongside programmed beats. In 2010, David curated the "Generation Ship" compilationalbum, featuring songs from Rich Aucoin, The Saffron Sect & members of Hooded Fang – with all proceeds donated to feed Liberian refugees. The majority of 2012 was spent writing and recording Sing Leaf's first full-length album, entitled Watery Moon, which was released in May 2013 by independent Los Angeles label, Chill Mega Chill Records.
HYVWTR is the dynamic duality of Wolfgang Nessel and Victoria Cheong. The project recently arose from the dissolution of buzzed and loved trio The Deeep (which included folk / soul songbender Isla Craig). Circa 2006-2009, before there came The Deeep, Wolf and Vic were working under the name Heavy Water to provide new streams of multi-media-minded trance / beat kaleidoscopia to Toronto audiences. Their project is now in transition with new inspirations and feelings. Improvisation, dancehall and techno come together to create future-world landscapes at turns barren and flourishing, seductive vocal-led struts down red-lit corridors, sonic mirror mazes filled with spinning beams of audio technicolor. Wolfgang and Victoria also run Healing Power Records and DJ together, throwing parties under the MEGA BONUS name.