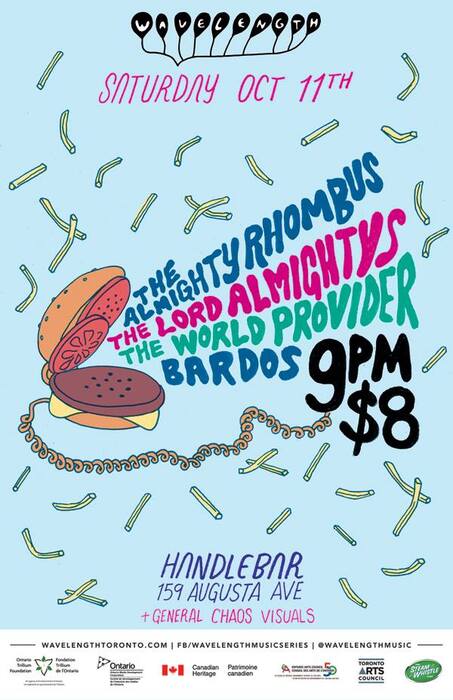 Oct 11

Handlebar

9:00 PM

19+
Wavelength Presents:
THE WORLD PROVIDER (Montreal)
The superheroic musical alter ego of mild-mannered Montreal filmmaker Malcolm Fraser, The World Provider fights crimes of mediocrity with: sartorial splendour, sardonic sassitude, and serious synth-rock riffage. (Members of Lion Farm, The Permanent Stains, original Peaches/Feist crew member.)
THE ALMIGHTY RHOMBUS (Sudbury)
Nickel-forged bubblegum pop that makes you feel like you just got let out of school early. Their Lucid Living LP is the perfect hit for anyone nostalgic for the golden age of '90s Can-indie (Sloan, Thrush Hermit, Superfriendz, Inbreds, Local Rabbits, etc.)
THE LORD ALMIGHTIES (Toronto)
And speaking of the 1994 Halifax Pop Explosion… Plumtree's Carla Gillis grinds her axe with some pals to spark a garage-rock ruckus. New band, brand new jams, old-school excitement. (Members of the band that inspired Scott Pilgrim vs. the World!!)
BARDOS (Toronto)
Lo-fi female-fronted punk-rock minimalism, simultaneously nihilistic and high on life. Check out the new Stolen Sex Tapes LP and prepare to weep/laugh maniacally/punch the mirror like the cover of Damaged. (Members of Cursed Arrows, The Vermicious Knid.)
+ General Chaos Visuals
++ Disco DJ Chris Randle
Saturday October 11
@ Handlebar, 159 Augusta Ave.
Doors 9pm
$8 adv at Ticketfly.com
19+
+ General Chaos Visuals & Disco DJ Chris Randle