Oct 17

The Tranzac
292 Brunswick Ave.
7pm
All Ages
$15 in advance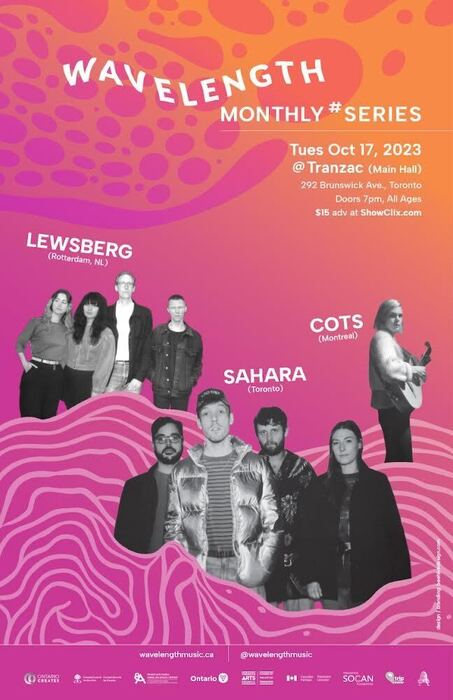 Oct 17

The Tranzac

292 Brunswick Ave.

7pm

All Ages

$15 in advance
Wavelength presents
Sahara
(Toronto // fuzzy blanket rock)
+
Lewsberg
(Rotterdam, NL // arty jangle pop)
+
Cots
(Montreal // bossa nova indie folk)
As part of the Wavelength Monthly Series
Tuesday, October 17, 2023
@ Tranzac (Main Hall), 292 Brunswick Ave., Toronto
Doors 7pm
$15 advance plus taxes and fees at ShowClix.com
Ticket link: https://bit.ly/WL-SLC2023
All Ages + Licensed
As the fall chill begins to settle into our bones, the communal confines of the Tranzac are set to get even cozier thanks to this trio of artists brought together from disparate geographical locations by a shared sense of comfort and affability. To the sounds of reverbed heart-rock, affable jangle-pop, or arty folk, get ready to make some new friends and nod your head to the beat alongside them.
Sahara's core friendship formed in a cramped tour van, and has since exploded into a vast expanse of shoegaze guitars and gauzy vocals. Three years after releasing debut album Pure Glass (via Hand Drawn Dracula), they're hard at work on the follow-up, and their consistent run of local shows over the last two years ensures that they'll sound tighter than ever.
The title and affable sheen of Lewsberg's latest album, Out and About (releasing September 8 via 12XU), speaks to their ever-expanding ambitions, coinciding with their first-ever North American tour. They certainly sound nice, the kind of crew who would invite you over for tea, put on some Beat Happening, and host a lovely afternoon of chit-chat.
Cots is the solo project of Montreal composer, singer, and guitarist Steph Yates. Blending elements of bossa nova, folk, jazz, and classical against a modern art backdrop, Cots's subtly unconventional compositions and poetics permeate debut record Disturbing Body and follow-up EP Moonlit Building. Her pure, crystalline voice carries the gravitas of songs that evoke lost love and its consequences.
COVID Protocols:
Please wear a mask. Though we have returned to in-person events, we acknowledge that COVID-19 is still infectious. In the spirit of community care, mask-wearing is requested at Wavelength except when eating or drinking. A supply of free KN95 masks will be available at the door. Rapid tests will also be available, if audience members wish to test prior to entry. If you are experiencing symptoms of COVID-19, please stay home. Thank you for your understanding and compassion!
Accessibility:
The Tranzac's first floor (where the show will be held) is wheelchair accessible. For more information, see https://www.tranzac.org/accessibility/. For all other accessibility requests, please contact us at info@wavelengthmusic.ca.
Audience Policy:
Wavelength respects the rights of each member of our diverse audience and is committed to providing an environment in which everyone can feel safe. Any behaviour which could reasonably be perceived as physically, emotionally, or mentally harmful to individuals at Wavelength events will not be tolerated. This includes: racism, sexism, homophobia, transphobia, body shaming, ableism, ageism, and all forms of violence.
Please be respectful of others and help Wavelength create a fun and safer space for everyone. If you need help, or see others in need of help, please talk to a Wavelength staff member or volunteer.
Ticket Purchase Policy:
Please note that all ticket sales are final and non-refundable. We may occasionally offer ticket refunds in limited circumstances, such as events that are canceled, postponed or rescheduled.