Venue
Toronto Media Arts Centre
Navigating Unwritten Codes – Wavelength Panel Discussion
---
Tuesday, February 12, 2019

Toronto Media Arts Centre
32 Lisgar St
7:00pm
All Ages
FREE admission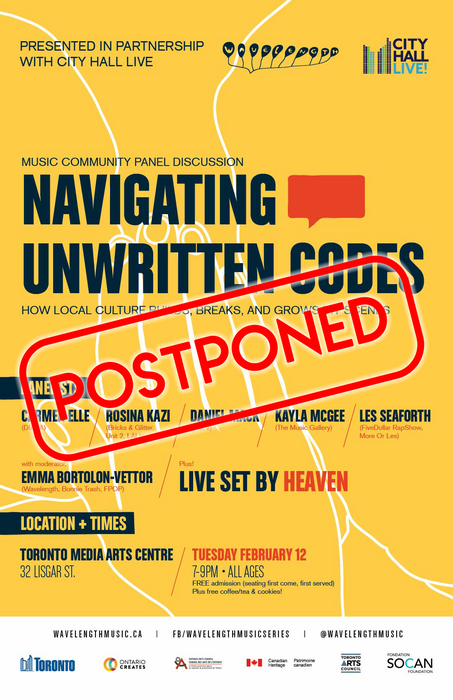 Venue
Toronto Media Arts Centre
*UPDATE: DUE TO THE SEVERE WINTER STORM, TODAY'S PANEL IS UNFORTUNATELY POSTPONED UNTIL A FURTHER DATE. PLEASE CHECK THIS PAGE FOR UPDATES!*
Pre-Festival Panel Discussion
"NAVIGATING UNWRITTEN CODES: How Local Culture Builds, Breaks and Grows DIY Scenes"
👉 Presented in partnership with City Hall Live
Panelists:
Carmen Elle (DIANA)
Rosina Kazi (Bricks & Glitter, Unit 2, LAL)
Daniel Mack (Unit 2)
Kayla McGee (The Music Gallery)
Les Seaforth (FiveDollar RapShow, More Or Les)
with moderator, Emma Bortolon-Vettor
Plus! Live set by HEAVEN (cosmic avant-pop) https://soundcloud.com/hvnheart
Tuesday February 12
@ Toronto Media Arts Centre (32 Lisgar St.)
(The entrance is just to the left of the main apartment tower lobby, outside. There is a coffee shop on the main level, take the stairs up to the mezzanine to reach the panel)
7-9pm • All Ages
⚡️FREE admission (seating first come, first served)⚡️
Panel Abstract: So you started a band, eh? Maybe a new theatre company, or a dance troupe. How do you break into the scene in your city? Who do you talk to, and what are these unwritten rules and codes that we abide by and for some reason, tend to conform to? Maybe you don't like these rules and this scene and so you start a new crew for a new scene. Let's write down these unwritten rules and stand them on their heads. It's time for us to crack these codes and bake a cake with one hell of a recipe.
DIY scenes are built on unwritten codes in how we construct and negotiate scenes, and for a ton of reasons: economics, demographics, and geography are a few of the heavy hitters. Others might be a lack of documentation or mentorship, or different expectations of what constitutes fairness. What is the situation like in Toronto and how does it differ from a smaller community? How have these sometimes secretive ways of DIY culture benefitted or limited growth of an arts culture and its subsets of expression? We have invited guest panellists to share their stories and expertise.
This discussion aims to objectively quantify the parameters of these unwritten codes around collaboration, networking, knowledge/expertise, and finance.
no images were found
[/types]']
---
---
UPCOMING SHOWS