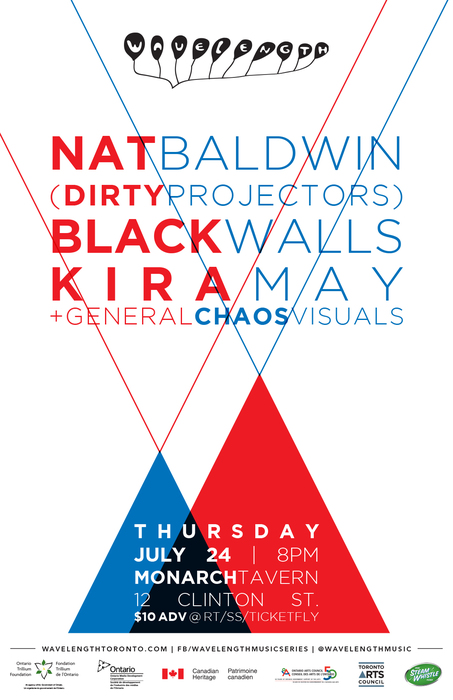 Jul 24

Monarch Tavern

8:00 PM

19+
Wavelength Presents:
NAT BALDWIN (Dirty Projectors / Maine, USA)
http://westernvinyl.com/artists/natbaldwin.html
Double bass swung low, crooning tenor swooping high, Dirty Projectors core member Nat Baldwin returns with an all-new collection of tunes in tow. In the Hollows out now on Western Vinyl, and string sections will never sound the same again.
with guests:
BLACK WALLS (Toronto / Pleasence Records)
http://blackwalls.bandcamp.com/
To wade through starlit shoals sleepwalking, a curling breeze billowing behind, listless waves purling below. The echo of an infinite expanse collects in the heart and expands, a swelling emptiness that demands to be heard. Low-core slow-core for catatonic midnights.
KIRA MAY (Toronto)
http://kiramay.bandcamp.com/
Little Björk bubbles fizzle up through a cocktail of squeezed beats and R&B garnishes. Electronic avant-folk betimes, discombobulated sample-soup at others. Someone drew all over the genre atlas in crayon and Kira May's face is visible in the scribbles.
+ General Chaos Visuals
Thursday July 24, 2014
@ Monarch Tavern, 12 Clinton St.
Doors 8pm
Tickets $10 adv at Rotate This (801 Queen W.) + Soundscapes (572 College St.) + online at Ticketfly

ABOUT THE ARTISTS
Kira May
Toronto-based vocal loop artist and choir of one, Kira May explores the melodic, rhythmic and textural elements of voice, creating songs that range from thick, haunting soundscapes to visceral pop. Her debut EP Health takes the listener on a journey through the dense wilderness of the body and mind afflicted by anxiety and indecision in pursuit of balance and rest.
Black Walls
Black Walls (a.k.a. Ken Reaume) is a "one-man" project from Toronto, Canada who's music has been described as doom, drone, folk and post-rock. Communion is Black Walls' sophomore LP on Pleasence Records. It is a bleak exploration in devotional doom and cold post-rock that Reaume has described as "an exploration into the metaphysical, my father's passing, dependency and detachment from others." Black Walls's 2012 debut Acedia was called a "prog-folk masterpiece" by Noisey.com. Ken Reaume had previously released two handmade CDRs, a 7″s and a full length under his own name prior. He's also shared stages and toured with artists such as Iron & Wine, Stars Of The Lid, Mt Eerie, Chelsea Wolfe, Bill Orcutt, MV & EE, Six Organs Of Admittance, Fucked Up, City and Colour and many others.
Nat Baldwin
After studying avant-garde jazz and improvisation with living legend Anthony Braxton, Nat Baldwin started writing songs featuring double bass and vocals. In 2005, he joined Dirty Projectors, and has since performed on records by Grizzly Bear, Vampire Weekend, Department of Eagles, and Phosphorescent. Despite his busy schedule, Nat found time to write and record In The Hollows, his follow-up to 2011's People Changes. In The Hollows features Otto Hauser (Vetiver, Lia Ices, Espers), Rob Moose (The National, Antony and the Johnsons, Bon Iver), and the Ymusic string trio. Discussing the album's production, Nat says "I wanted to achieve a consistency throughout that my past albums have lacked. I wanted the strings to add to the mournful quality of the songs, weaving their way through the sonic terrain, providing emotional emphasis, but also leaving necessary amounts of space. Albums by Nick Drake, Judee Sill, Joanna Newsom, Antony & the Johnsons, and Bill Callahan, to name a few, provided inspiration in balancing that intimacy with minimal, but powerful, adornments." Immersive, athletic, and often profound, In The Hollows represents his clearest and most consistent album-length statement, melodically, structurally, and lyrically. Nat explains that, "I hope it is as unsettling as it is beautiful. I want it to make people feel things they can't describe."
Poster design by Derek Ma
+ General Chaos Visuals