Feb 12

The Gladstone Hotel Ballroom
1214 Queen St. W.
Doors 4:30pm
All Ages
FREE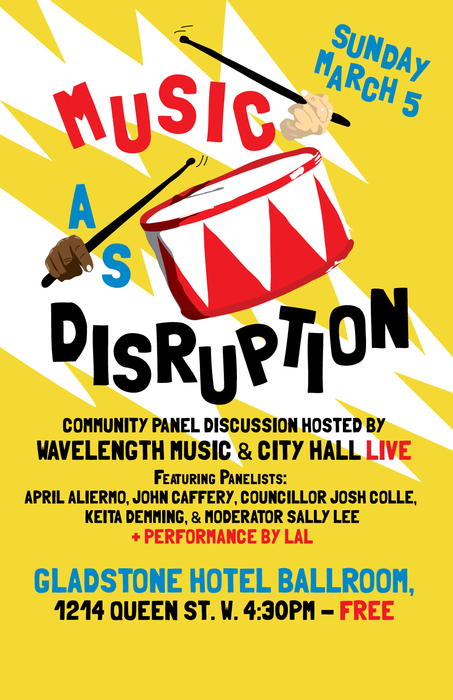 Feb 12

The Gladstone Hotel Ballroom

1214 Queen St. W.

Doors 4:30pm

All Ages

FREE
*** RESCHEDULED DATE! ***
Thanks for your patience – we have now announced our rescheduled date for this event, which was postponed due to the snowstorm on the original date.
MUSIC AS DISRUPTION – Community Panel Discussion
Sunday March 5, 2017
Gladstone Hotel Ballroom, 1214 Queen St. W.
4:30PM – FREE
Featuring Panelists: April Aliermo • John Caffery • Councillor Josh Colle • Keita Demming with moderator Sally Lee
+ Performance by LAL
Wavelength is joining forces with the City of Toronto's City Hall Live series to co-host a free community panel discussion entitled "Music as Disruption," on Sunday February 12, at 3:30pm, in the Gladstone Hotel Ballroom at 1214 Queen Street West. Conceived as an open-end forum on the subject of "art as activism," with a focus on Toronto's vibrant and diverse music scene, the panel's topic statement reads thusly:
Recent world events have caused many people to look to music and the arts for solace. But how can music be more than just an escape hatch? Can music act as a conduit for positive social change, both at home and further afield? How can we better support DIY spaces and other sites for creativity and community? And how can the music community become more civically engaged?
The afternoon will commence with a live performance with socially conscious electro-soul duo LAL, in keeping with all City Hall Live (formerly known as Live from City Hall) events, which always include live music. Following the live performance, the panel features musicians/activists April Aliermo (Phèdre, Hooded Fang) and John Caffery (Kids on TV, Supporting Our Youth), disruption expert Keita Demming (University of Toronto), and Toronto City Council's music champion, Councillor Josh Colle. The panel will be moderated by Wavelength Board member, musician, and arts professional Sally Lee. An audience Q&A session will follow and participants are encouraged to stay for continued discussion and networking.
Panelist and Performer Biographies: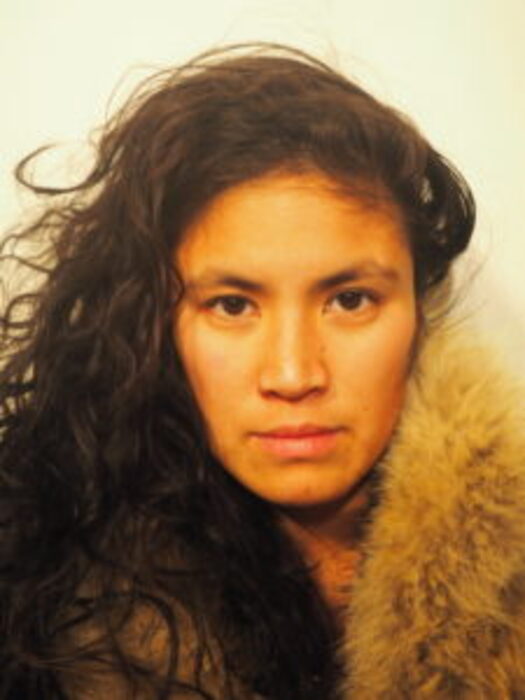 April Aliermo
April Aliermo is a Filipinx-Canadian musician, songwriter, entrepreneur, and educator based out of Toronto. She plays bass and has co-written music and lyrics for Hooded Fang and Phèdre. She strives to build conscious communities while having the time of her life.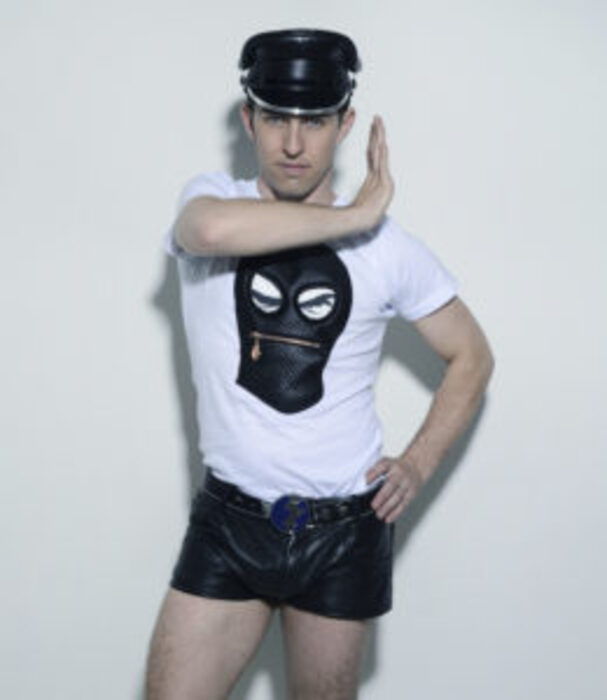 John Caffery
John Caffery is a multidisciplinary artist who engages art in social change and works on creative responses to oppression. His 15-year career began on the stages of Vaseline, the legendary party where he performed as a dancer. As a founding member of artist collective Kids on TV, he toured internationally, produced film and video, as well as published. John has worked with the Art Gallery of York University, National Arts Centre, and Harbourfront Centre. In 2015 he was Artist in Residence with Mammalian Diving Reflex at the Art Gallery of Ontario. John recently became a designer and a mentor for the Banff Centre leadership institute. At Supporting Our Youth (SOY), John designed the program: H.E.A.T.(Human Rights Equity Access Team) to engage LGBTQ2S youth using arts-based methods to develop skills and opportunities that empower them to be active citizens and advocates for social justice.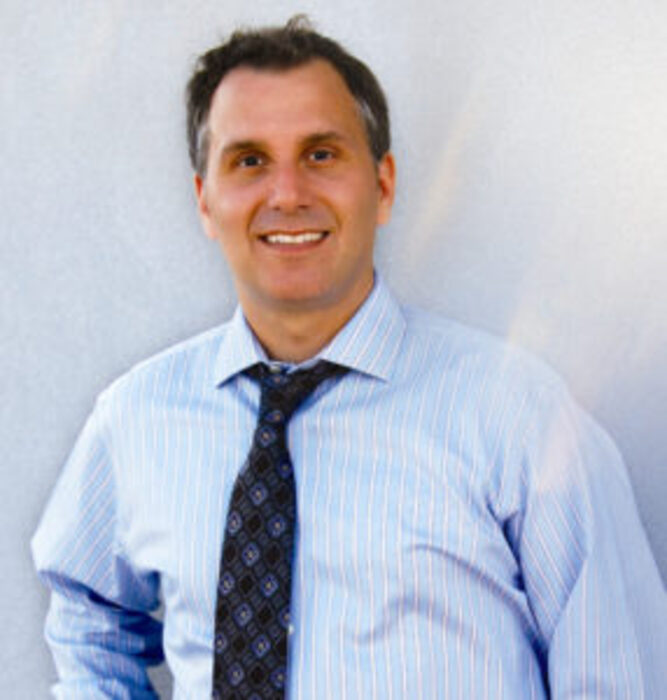 Councillor Josh Colle
Councillor Josh Colle – Born and raised in Toronto, Josh Colle is a two-term City Councillor for Ward 15, Eglinton-Lawrence and has served as the Chair of the TTC since 2014. Since his election in 2010, Josh has been a vocal advocate for Toronto's music scene and industry. At City Hall, he created and now chairs the Toronto Music Advisory Council. Thanks to Josh's leadership, City Council has passed a number of motions designed to strengthen the music industry in Toronto, including the creation of a Music City Alliance with Austin, Texas, and a strategy to protect Live Music Venues. He has been a guest speaker on a number of panels including Canadian Music Week, NXNE, and Wavelength's 2014 Toronto Music Moment event. In his local community, Josh has advocated for increased arts and music programming and has connected youth with music grant opportunities and industry mentors. He also spearheaded efforts to celebrate Toronto's reggae music scene, with the creation of Reggae Lane. This initiative included a laneway renaming, the largest reggae mural in Canada, live performances, a new "Reggae Lane" song, a Toronto Public Library research guide to Toronto reggae, and a Toronto Reggae Hall of Fame. Josh also sits on a number of boards and committees at City Hall and in his spare time can be found at concerts at Toronto's live music venues.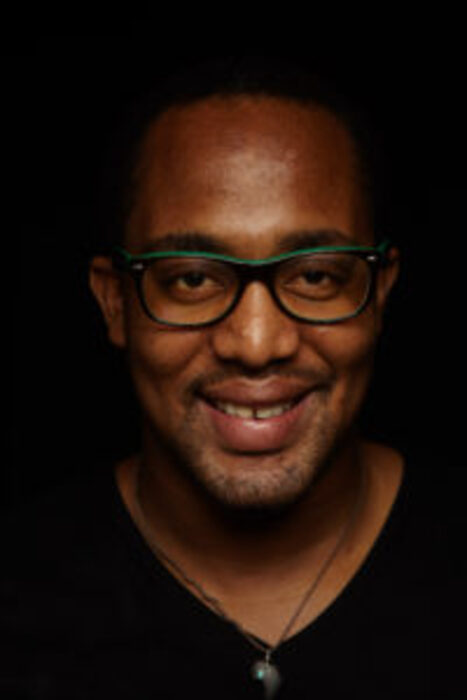 Keita Demming
Keita Demming holds a PhD from the University of Toronto. His podcast Disruptive Conversations is an effort to unpack how people who are working to disrupt a sector or system think. Dr. Keita Demming can be described as an innovation researcher, learning strategist, process designer, evaluator, and consultant. With almost 15 years' experience working in the area of strategic social innovation, Dr. Demming has developed many reports, programs, frameworks or strategic documents for and with his collaborators. In his thesis, he developed a framework for determining if organizations were social innovating or merely aspiring or claiming to be social innovating. Dr. Demming has worked internationally and in a variety of sectors within the field of social innovation.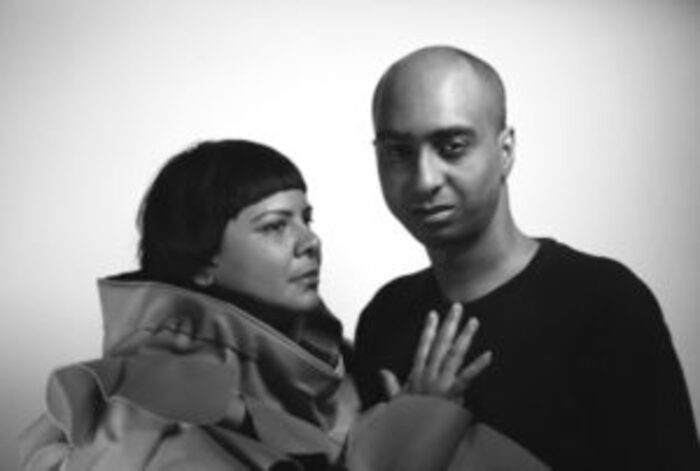 LAL
LAL – Formed in 1998 by the dynamic duo of Bengali-rooted poet, activist, and singer Rosina Kazi and her life partner, producer, philosopher, and Barbados-born king of chill, Nicholas Murray, LAL is a pillar of Toronto's musical and artistic communities. With a sound incorporating dub, hip-hop, soul, downtempo, and global traditions, LAL are also truly unclassifiable. Their long-awaited new album, Find Safety (Coax Records), is one of the city's most acclaimed releases of 2016.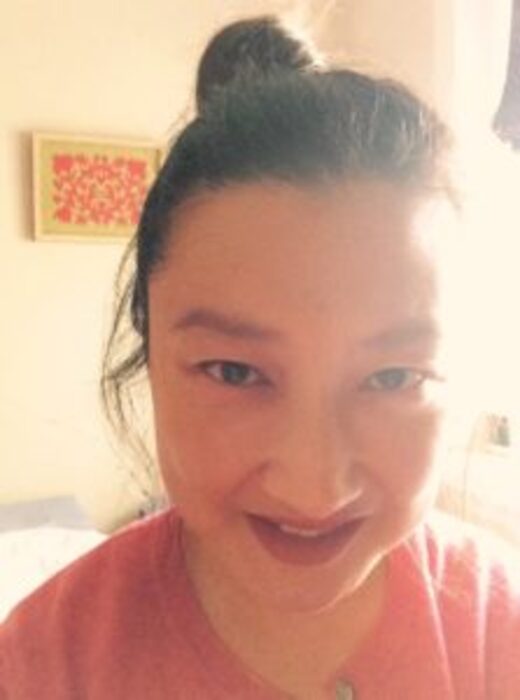 Moderator – Sally Lee
Sally Lee is the Executive Director of CARFAC Ontario. Over the years, she has held management and leadership positions at TIFF, Soulpepper, and Reel Asian. Other groups she has worked with as a staff or board member include the LIFT, the Images Festival, Artists for Peace and Justice, Samara, Pan Am Path, BorderLines Magazine and the Women's Press. In addition to her duties as a Board member for Wavelength, she currently sits on the board of the Canadian Filmmakers Distribution Centre, the Advocacy Committee of the Toronto Arts Council, and the Advisory Board of Reel Asian. She has participated in the production of several independent films and music videos and was a member of local bands Chicken Milk, Venus Cures All, Third Line Butterfly (Korea), and The Magnetars. She currently plays bass and sings in Long Branch.