Most People's Debut Record Release Party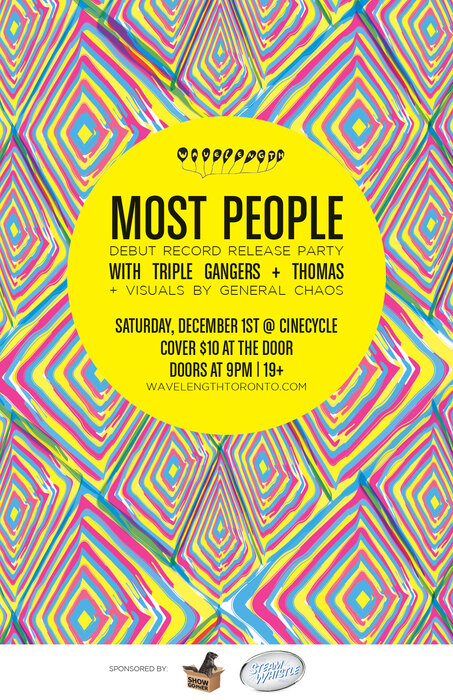 Dec 1

CineCycle

9:00 PM

19+
Most People's Debut Record Release Party
with guests:
Triple Gangers THOMAS
+ Projections by General Chaos Visuals+ DJ Eytan Tobin of Elektrotank spinning sexy fun tunes all night long!
Saturday, December 1st
@ Cinecycle, 129 Spadina Avenue 9pm • $10 at the door
19+
Most People is a new pastoral pop project from Torontonians and multi-instrumentalists Brandon DeGroote and Paul McEachern – relative newcomers to the Toronto music community. Based around a guitar/bass foundation, they incorporate programmed electronics, double-drumming, and harmonized vocals into their live act – a truly mesmerizing display of musical multi-tasking. The gorgeous results will have immediate appeal to fans of Animal Collective, Braids or Grizzly Bear.
One of Wavelength's top musical discoveries of 2011, Most People performed at our WL12 Anniversary Festival this past February, and will be one of three ensembles who will participate in Wavelength's new "Artist Incubator" Pilot Project in 2013. We are very thrilled to present the release party for Most People's immaculate debut full-length record, at Cinecycle on December 1st, 2012. This show also marks the band's second anniversary!
The line-up is rounded out awesomely by 2012 ALL CAPS! veterans and electro-fun-time-pop trio Triple Gangers and neo-soul/R&B crooner THOMAS a.k.a. Owen Pallett collaborator Thom Gill.
"Most People create a sound that is bigger than the sum of its parts and greater than the age of the players. Their music captures the rambunctiousness of youth and channels the sublime leisure
of old age in a rocker." – Doc Pickles, Wavelength
"Glowing with underground flair, Most People provided the soundtrack for arty-experimental-pop goodness." – Lonely Vagabond
"Fans of Braids' neo-psychedelia and ambient electronic sounds should start forming a long and meandering line now." – BlogTO
Sponsored by Steam Whistle and Show Gopher.