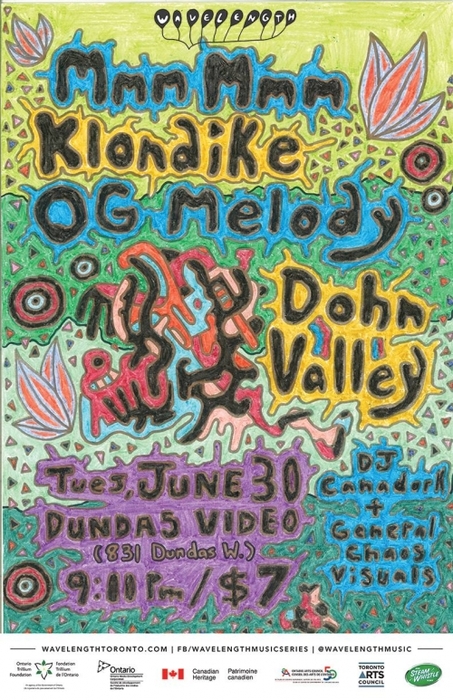 Jun 30

Dundas Video

9:00 PM

19+
WAVELENGTH PRESENTS:
MMM MMM
(Sexy Merlin + Man Made Hill)
http://mechanicalforestsound.blogspot.ca/2015/04/recording-mmm-mmm.html
Sexy Merlin and Man Made Hill lock together like lego made of Jello and jiggle to crispy rhythms and squishy synths. Dance spastic and slide to and fro on your feet, bleat like a sheep and chug down another one. EDM for all the mac-n'-cheesers, gettin' sweaty to the newies not the oldies.
KLONDIKE (MTL)
http://klondikemoosica.bandcamp.com
MIDI mastery coiled around tropical aesthetics, propelling us through pixellated sonic savannahs, trickled with dappling rainbow mini-cubes. Each tiny note a raindrop in a sun shower of scintillant sounds, some wide-eye pensive, others uniquely dancey. Come give Klondike a warm welcome.
OG MELODY
https://ogmelody.bandcamp.com
After a lil' while away Isla Craig and Thom Gill's OG Melody returns to grace us all with oh-too-smooth odd sock RnB beauty. Creamy beats glide under lilting voice, with golden composition wrapping it into a wooly hug. Warm heart glow, eyes closed and just follow the sway.
DOHN VALLEY
(Julie Reich of Bile Sister)
https://dohnvalley.bandcamp.com
Splish-splosh in the iridescent slime bath, candle wax drippin' from the ceiling into your empty ice cream cone. Yawning mouthes with gold teeth, flapping open-shut and this freak-o music oozing out. Julie Reich of Bile Sister delivers this boss, burpy chemistry to our drums.
+ DJ Canadork
++ General Chaos Visuals
Tuesday, June 30
(Evening before Canada Day holiday!)
9:00PM / $7 / 19+
@ DUNDAS VIDEO (831 Dundas W.)
(Venue has playable Nintendo and Sega systems!)