Oct 27

Brothers Dressler
225 Sterling Rd., Unit 16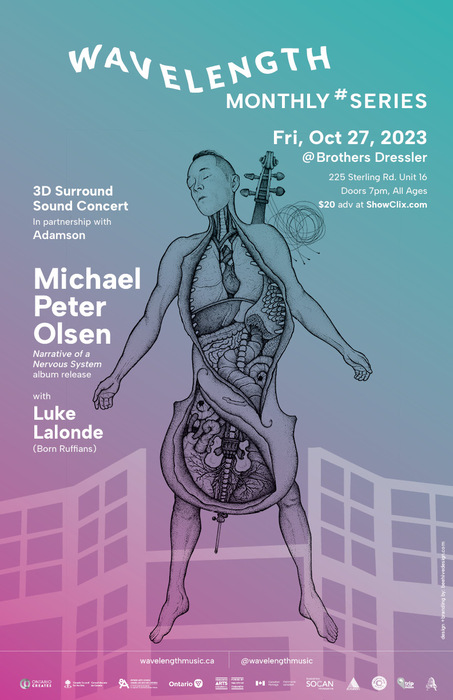 Oct 27

Brothers Dressler

225 Sterling Rd., Unit 16

7PM

All Ages

$20 adv
Wavelength presents
A 3D Surround Sound Concert Experience
In partnership with Adamson
Michael Peter Olsen
(Toronto // cellist to the stars gone cosmic // Narrative of a Nervous System album release)
+
Luke Lalonde
(Toronto // Born Ruffians vocalist gone Americana // solo set)
With special visuals by
Shawn Chiki
As part of the Wavelength Monthly Series
@ Brothers Dressler, 225 Sterling Rd., Unit 16, Toronto
Friday, October 27, 2023
Doors 7pm
$20 advance plus taxes and fees at showclix.com
Ticket link: https://bit.ly/WL-MPO2023
More info: https://bit.ly/MPO-2023INFO
All Ages / Licensed
Nobody does it like Michael Peter Olsen. Since coming to prominence in the early 2000s as a member of the Hidden Cameras, Michael has gradually honed his craft as a cello visionary and collaborated with a long list of world-renowned artists including Drake, Haim, Ed Sheeran, and Sharon Van Etten. In recent years, he's routed his more abstract impulses into solo compositions under his own name, and is about to follow up his 2021 debut solo album Yearning Flow with Narrative of a Nervous System, to be released on October 27 via Hand Drawn Dracula.
On the day of his album release, we'll be celebrating with a show as unique as Michael's music and career, in partnership with Adamson, Canada's most recognized exporter of loudspeaker technology for the pro-audio sector. Amid the rustic backdrop of the Brothers Dressler woodworking studio, where Wavelength presented two memorable shows in 2019, Michael's cello explorations will be bolstered by an all-star band including Narrative of a Nervous System guest stars Owen Pallett, and alaska B (Yamantaka // Sonic Titan) and powered by the Adamson Fletcher Machine immersive 3D audio rendering engine so every note can be experienced as intended.
Add in an opening solo set by Born Ruffians singer-guitarist Luke Lalonde and special visuals by Toronto/Buffalo-based multimedia artist and professor Shawn Chiki, and it's bound to be a special night that will sound and look unlike any other.
Poster design by Beehive Design.
lllustration by Ian Sullivan Cant.
COVID Protocols:
PLEASE WEAR A MASK.
Though we have returned to in-person events, we acknowledge that COVID-19 is still infectious. In the spirit of community care, mask-wearing is requested at Wavelength except when eating or drinking. A supply of free KN95 masks will be available at the door. Rapid tests will also be available, if audience members wish to test prior to entry. If you are experiencing symptoms of COVID-19, please stay home. Thank you for your understanding and compassion!
Accessibility:
Brothers Dressler is fully wheelchair accessible. For all other accessibility requests, please contact us at info@wavelengthmusic.ca.
Audience Policy:
Wavelength respects the rights of each member of our diverse audience and is committed to providing an environment in which everyone can feel safe. Any behaviour which could reasonably be perceived as physically, emotionally, or mentally harmful to individuals at Wavelength events will not be tolerated. This includes: racism, sexism, homophobia, transphobia, body shaming, ableism, ageism, and all forms of violence.
Please be respectful of others and help Wavelength create a fun and safer space for everyone. If you need help, or see others in need of help, please talk to a Wavelength staff member or volunteer.
Ticket Purchase Policy:
Please note that all ticket sales are final and non-refundable. We may occasionally offer ticket refunds in limited circumstances, such as events that are canceled, postponed or rescheduled.