May 19

Tranzac
292 Brunswick Avenue Toronto, ON M5S 2M7
8:00 PM
All Ages
$10 in advance | $15 at the door / NOTAFLOF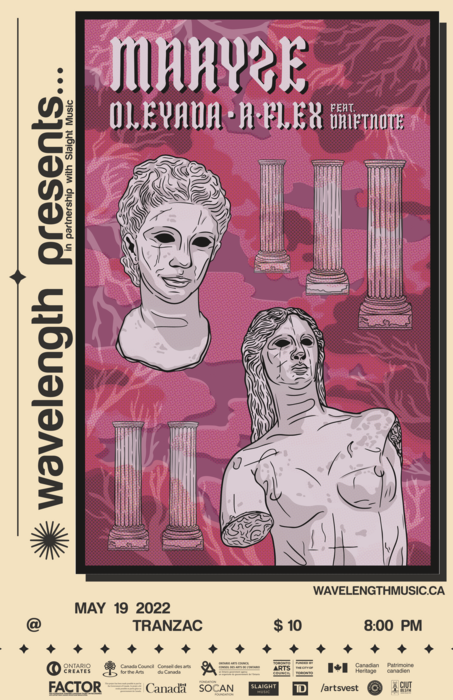 May 19

Tranzac

292 Brunswick Avenue Toronto, ON M5S 2M7

8:00 PM

All Ages

$10 in advance | $15 at the door / NOTAFLOF
Wavelength Presents…
in partnership with Slaight Music:
Maryze (Montreal electro-pop, Hot Tramp Records)
8 album release
With special guests:
R. Flex & Driftnote (Toronto electro-R&B)
Oleyada (next-gen Mississauga indie-pop)

+ decor by Roxanne Ignatius
Thursday, May 19, 2022
Tranzac (292 Brunswick Ave. Toronto ON)
$10 in advance at ShowClix.com
$15 at the door / NOTAFLOF
All Ages / Licensed
Doors at 8pm
Maryze is a queer bilingual singer-songwriter based in Montreal. Her stormy-sweet alt pop conjures a haunting universe, blending electronic beats with fiery, introspective lyrics on mental health, feminism and sexuality.
Maryze released her debut EP Like Moons in 2019 which charted on Spotify's Viral 50 Canada and launched a month-long North American tour. Following this EP, Maryze released a sling of singles in 2020-2021 including 'Squelettes' featuring Polaris prize winner Backxwash and retro pop banger 'Too Late'. Both tracks received acclaim across national media and landed Maryze spots at festivals such as POP Montreal, Montreal Pride, Wavelength Music Fest, and M for MTL. The multimedia artist continues to widen her audience and explore new mediums; she was voted #1 TikTok in Cult MTL's reader poll and the platform will be including her in their upcoming campaign highlighting TikTok Canada's best content creators of 2021.
Next up, Maryze will be releasing her debut LP 8.  The album experiments with influences and genres, from emo and hyperpop to Celtic folk. Offering both maximalist electronic production and stripped-down ballads, 8 introduces Maryze's modern electronic alt-pop, calling listeners to consider the roots and knots that exist within each of us. 8 will be released April 8th, 2022 via Hot Tramp Records.
—
COVID Protocols:
Your safety is our primary concern. Live event protocols are likely to change month to month. At this time, audience members aged two and older are required to always wear face coverings while on the venue property, except when actively eating and drinking. Proof of full vaccination minimum 2 weeks prior to the event is required to enter. If you are feeling ill, please be considerate and stay home to rest up.
Masking will remain a requirement while inside the Tranzac. Please review their current protocols here.
Accessibility:
The Tranzac is located between two wheelchair accessible ttc stations (Bathurst and Spadina). The entrance to the building is accessible by ramp. Washrooms, located on the main floor have an entrance of 32″. For all other accessibility requests, please contact us at info@wavelengthmusic.ca
Audience Policy:
Wavelength respects the rights of each member of our diverse audience and is committed to providing an environment in which everyone can feel safe. Any behaviour which could reasonably be perceived as physically, emotionally, or mentally harmful to individuals at Wavelength events will not be tolerated. This includes: racism, sexism, homophobia, transphobia, body shaming, ableism, ageism, and all forms of violence.
Please be respectful of others and help Wavelength create a fun and safer space for everyone. If you need help, or see others in need of help, please talk to a Wavelength staff member or volunteer.
For information on Wavelength's Code of Conduct and Anti-Harassment and Violence policies, please go here.