May 20

The Garrison
1197 Dundas St. W.
Doors 8pm
19+
$8 in advance | $12 at door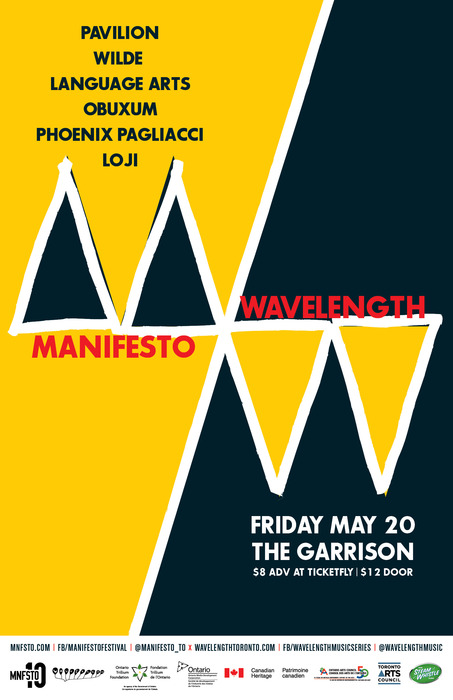 May 20

The Garrison

1197 Dundas St. W.

Doors 8pm

19+

$8 in advance | $12 at door
MANIFESTO x WAVELENGTH
Friday May 20, 2016
The Garrison – 1197 Dundas St. W. – Toronto
Manifesto x Wavelength: Two of Toronto's most groundbreaking, community-based arts organizations team up for a night of boundary-busting music and visuals!
Featuring:
PAVILION
Featuring Fucked Up's Jonah Falco on drums, this dual-female-fronted foursome (formerly known as Mercury Girls) is setting Toronto abuzz with their reverb-drenched post-punk guitar rock sound.
WILDE
Led by singer Giselle Mapp, WILDE is a soulful electro-pop outfit with layered futuristic production from bandmates Olotubi "Nyra" Akinwumi and Brandon Merenick. Creating a majority of their existing music in Berlin, but calling Toronto home, they have received a strong response for their debut EP Flashlight.
LANGUAGE ARTS
Language Arts' synth/guitar/drum-powered indie-pop is indeed artful as well as playful, and the trio's music is a fine showcase for vocalist Kristen Cudmore, as heard on their acclaimed 2015 album Able Island (9/10, Exclaim).
OBUXUM (Live & DJ sets)
Muxubo "Obuxum" Mohamed is an experimental multi-genre music producer and DJ, heavily influenced and inspired by everyone from J Dilla to Fela Kuti to Stromae. Her current project 2991 is a compilation of instrumentals made from 2011 through 2013.
PHOENIX PAGLIACCI
Rian Hamilton aka pHoenix Pagliacci has been rapping, singing and songwriting since the age of 6, with collaborators including Yuri Koller, Junia-T and Tona. Silent Shout blog called her new album Ars Amatoria one of the best albums of 2016 so far.
LOJI
Juicy, Junior Boys-inspired electro-pop from this emerging Toronto duo, with both outstanding production and double-vocal action on their three singles to date.
+ Projections by General Chaos Visuals
Friday May 20, 2016
@ The Garrison, 1197 Dundas St. W.
Doors 8pm
$8 adv at Ticketfly.com / $12 at the door.
Manifesto and Wavelength share much in common – both are non-profit, artist-oriented and community-based, creating inclusive events and helping develop artists and entrepreneurship. Though the two organizations have their origins in distinct musical scenes, as the musical landscape continues to blur the lines between genres, Manifesto and Wavelength's points of crossover are stronger than ever. 2016 marks Manifesto's 10th year and Wavelength's 16th anniversary respectively, making this long-overdue collaboration over a quarter century in the making.
For this Marvel team-up at the Garrison, Manifesto and Wavelength have co-curated a packed May Long Weekend party featuring some of the freshest sounds from across the Toronto music scene. From electro-pop to hip-hop to spoken word to post-punk to R&B, May 20 will showcase not only the bursting talent of the 6ix, but also the collective visions of these two influential organizations.