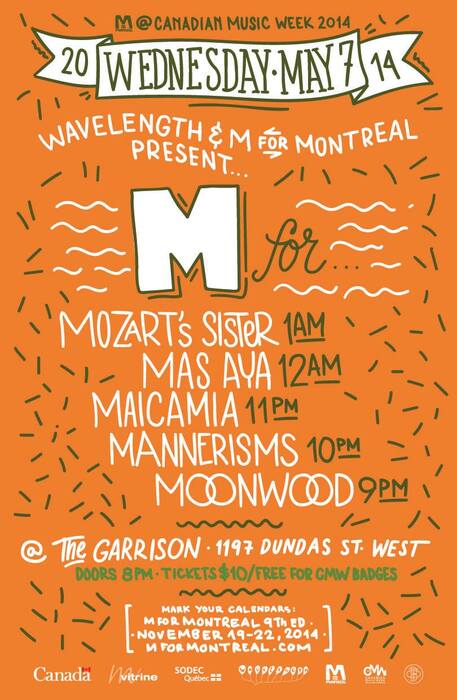 May 7

The Garrison

8:00 PM

19+
Wavelength, M for Montreal and CMW Present:
"M for…"
MOZART'S SISTER (Montreal) – 1AM
MAS AYA (Toronto) – 12AM
MOST PEOPLE (Toronto) – 11PM
MANNERISMS (Toronto) – 10PM
MOONWOOD (Toronto) – 9PM
** Unfortunately due to circumstances beyond our control, MaicaMia will no longer be performing at this event **
Wednesday May 7
Doors 8pm
@ The Garrison (1197 Dundas St. W.)
Part of Canadian Music Week
$10 in advance + at the door, free with CMW badges
For our first-ever CMW showcase, Wavelength is teaming up with our friends at the M for Montreal festival to present a night of bands – from both Montreal and Toronto – who share just one important thing in common: their names all start with "M."
About the artists:
MOONWOOD (9PM)
Moonwood is a psychedelic space-rock band based in Toronto. They are influenced by Krautrock and classic '70s heavy psych bands, dub, Afro-beat, Middle-Eastern tonalities, and free-jazz expression. Moonwood began in 2007 as the solo project of psychedelic-folk guitarist Jakob Rehlinger, but has since expanded to a four-piece combo headed by Jacqueline Noire on synth and lead vocals. Luca Capone and Matthew Fava fill out the line-up on drums and bass guitar, respectively. They are currently putting the finishing touches on a new LP, Desert Ghosts, slated for summer release jointly on Pleasence Records/Arachnidiscs Recordings, a follow-up to the 2012 cassette, Trans Martian Express. http://www.youtube.com/watch?v=eVCJL636m-U
MANNERISMS (10PM)
Mannerisms are not a retro jazz fusion band. They also have little in common with modern fusion either. Instead, they prefer to ditch most of that
self-indulgent noodling in favour of tighter and more rhythmically-focussed compositions, as if an imaginary cosmic disco god had already performed some re-edit magic before the band even learned the songs. Originally splintering off a previous group known as The Cleef, featuring drummer Dean Wales and guitarist Mike Morency-Frame, the instrumental group see themselves as the missing link between Tortoise and Weather Report. If you need a name for it, you could describe their one-band genre as cold-fusion, post-jazz-rock, minimalist-prog, sci-fi funk, or perhaps astro-beat.https://www.youtube.com/watch?v=wBVW5faffwU
MOST PEOPLE (8PM)
Toronto duo of Brandon de Groote and Paul McEachern make electronically
infused pop that enthusiastically absorbs R&B and calypso influences
alongside anthemic synth-rock from '80s movie soundtracks. Imagine if
your laptop could make you a daiquiri while teachin you to metal-tap on
guitar — but swoonier. Part of Wavelength's Artist Incubator program,
the band released their new 3-song EP on cassingle format at the recent
cross-cultural "NICE" event in Toronto.
MAS AYA (12AM)
Born out of an exploration of combining and colliding cultures and ideas, Mas Aya is the solo project of Toronto-based percussionist Brandon Miguel Valdivia (Not the Wind, Not the Flag, Pachamama). A combination of the Spanish term "Más Allá," meaning the Beyond, and Masaya, the town in Nicaragua where his grandmother was born, Mas Aya takes its inspiration from the daily battle scene of present day society where the few profit from the suffering of the many, where water, air and land are viewed as commodities to be profited from, and where ancient traditions and teachings are threatened and endangered. Mas Aya is a lively and powerful percussion, flute and voice stage show, inviting communities to cast off the shroud of commodity-based living to empower themselves and each other through music, meditation, dance and celebration. Mas Aya has two releases: Pockets, released in 2012 on Manufature Errata/Tomaturj and Kairos, released in 2013 on Healing Power Records. A new LP is scheduled for release later in 2014. https://vimeo.com/59367864
MOZART'S SISTER (1AM)
Mozart's Sister is the solo project of Montreal's Caila Thompson-Hannant, also of Shapes and Sizes. Staggering between beautiful, bursting synth-filled pop melodies and the complicated, often harsh consequences of reality in her lyrics, she unites these elements together in an explosion of vibrant emotion and hypnotizing intensity. Taking shape in early 2011, Mozart's Sister thrives on complex layering, melding upbeat, sparkling dance loops with tremendous, belting vocals, only to morph into pulsating sci-fi drones and dark rhythms atop sensuous, assertive vocals. This sense of unexpected fluidity and change flowed throughout Dear Fear, her self-recorded and self-released debut EP from 2011, and its follow-up, the Hello EP (Merok Records) in 2013.