June 28

Longboat Hall
103 Dovercourt Rd., Toronto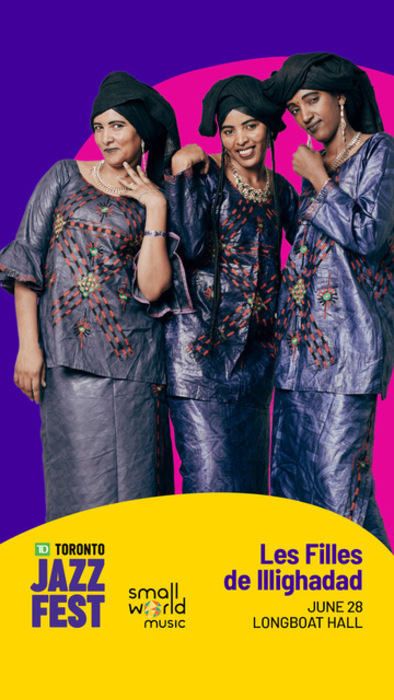 June 28

Longboat Hall

103 Dovercourt Rd., Toronto

19+

$29.50 in advance
DUE TO UNFORESEEN CIRCUMSTANCES, THIS EVENT IS CANCELLED.
Les Filles de Illighadad have had to cancel their Canadian tour. Ticket holders for the June 28th performance will be issued full refunds within 30 days.
—–
A Wavelength Promotional Partnership with the TD Toronto Jazz Festival:
Les Filles de Illighadad (Female-led, Pitchfork-acclaimed Tuareg band)
Tuesday June 28th, 2022
Longboat Hall (103 Dovercourt Rd., Toronto)
$29.50 in advance at admitone.com
19+
Doors at 7:00PM
Les Filles' music draws from two distinct styles of regional sound, ancient village choral chants and desert guitar. The result is a groundbreaking new direction for Tuareg folk music and a sound that resonates far outside of their village in Niger.
At the heart of Les Filles' music is the percussion and poetry of tende—a term used for both the instrument and the type of music— whereby a mortar and pestle are transformed into a drum, and women join together in a circle, in a chorus of singing, chanting, and clapping. Sometimes it's music for celebration, sometimes it's music to heal the sick, sometimes it's poetry of love. But it's always music of people, where the line between performer and spectator breaks down. To be a witness is to be a participant, to listen is to join in the collective song.
The New Yorker's music critic Amanda Petrusich writes: "The crowd in Brooklyn was entranced, nearly reverent. Les Filles' music is mesmeric, almost prayer-like, which can leave an audience agog… whatever rhythm does to a human body—it was happening."
Co-Presented by Small World Music 
Promotional Partner Wavelength Music 
**To minimize the impact of COVID-19, support the health and safety of our guests, and in compliance with city and provincial requirements, TD Toronto Jazz Fest is prepared to ensure all measures are taken to abide by the protocols dictated by Public Health Ontario. Please consider your own individual risk, and make choices that will keep you, your family, and your community safe while attending the show.