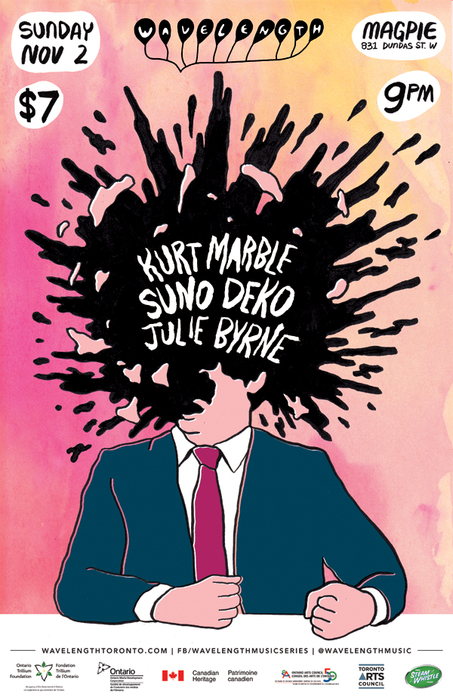 Nov 2

Magpie Taproom

9:00 PM

19+
Wavelength presents:
KURT MARBLE (Toronto – live debut performance!!)
– Members of Most People, Tails, Radius & Helena and Republic of Safety
Dug up from deep, fiery wells, Kurt Marble is a molten golem of jacked-up garage rock. Taking up the gauntlet of Ty Segall and stomping it flat, riffs rage and nerves crackle. Viciously catchy, like a brain-cooking virus.
SUNO DEKO (Atlanta)
Synth-speckled, open-heart pop with a glow smile that reaches across dark lakes and deserts. A man standing arms akimbo on a sun-washed hillock, casting a perfect, black silhouette. Suno Deko is sure to give you life.
JULIE BYRNE (Chicago)
A fount of soft-sung beauty, like billowing leaves and pillowy, drifting cumuli. Cohen's "Famous Blue Raincoat" becomes a person, unpacks a wistful history between a pen and a tense hand. Nylon strings waltz with dusky voice to paint a picture of grace.
+ DJ Brandon Gibson-DeGroote (Most People)
++ General Chaos Visuals
Sunday November 2nd
@ Magpie Taproom (831 Dundas St. W)
Doors 9pm | 19+
$7
Wavelength #626: Programmed by Dorice Tepley
Band descriptions by Adam Bradley
Poster by Mike Pereira
About the artists:
Kurt Marble
From the charming Northern Ontario outpost of Espanola, comes multi-instrumentalist Kurt Marble. Though cleverly disguised beneath layers of fuzz and filth, his music is at its core sweet and good natured pop, reminiscent of early 60's doo-wop and rock'n'roll.
Originally a one-man outfit, the early Kurt Marble demos were composed and recorded alone in his Toronto apartment, though by the by it has ballooned into a full-blown live spectacle featuring his band, Steve Kwok, Marlena Kaesler and Paul McEachern. Three Toronto music scene veterans, known together as, The Conniptions. The debut album from Kurt Marble, Notes, will be available on cassette in December, 2014.
So there you have it. It may sound confusing there, as if to say our band is called The Conniptions. But that's just Steve, Paul, and Mar. I'm no goddamm Conniption. FUCK THEM!! (But in all seriousness, I love them so much.)
There! I'm done all my chores! Now I can go back to my regular work, i.e. watching cat videos on YouTube.
Suno Deko
Suno Deko is the solo experimental-pop project of Atlanta poet and musician David Courtright. A solo, multi-instrumental, loop-based project based in experimentation and orchestral layering that weaves the sonic and the poetic into simple but potent statements on mortality, the physical body, love, vulnerability, and dreams. Working almost architecturally, he builds the songs live, starting often with a rhythmic foundation, then adding guitar, synth, violin or vocal parts to create a dense and kinetic aural landscape. His debut release is the four-song Thrown Color EP, released digitally and with two selections on 7" vinyl on Berlin-based Stratosfear, a label curated by No Fear of Pop, and for limited cassette release on Life Like Tapes. The EP was recorded and mixed at The Cottage in Atlanta by Luciano Giarrano, and mastered by Warren Hildebrand of Foxes in Fiction in New York.
Julie Byrne
Julie Byrne, who recently moved to Seattle from Chicago, crafts elegant, deliberately wrought songs that chronicle memory, hope, and loss using finely crafted lyrics and complex fingerpicked guitar run through delay. The sombre, dream-like quality of her songs is similar to a stripped-down Grouper, with restraint and measure in her deep, unusual vocal timbre.