Apr 11

Polish Combatants Hall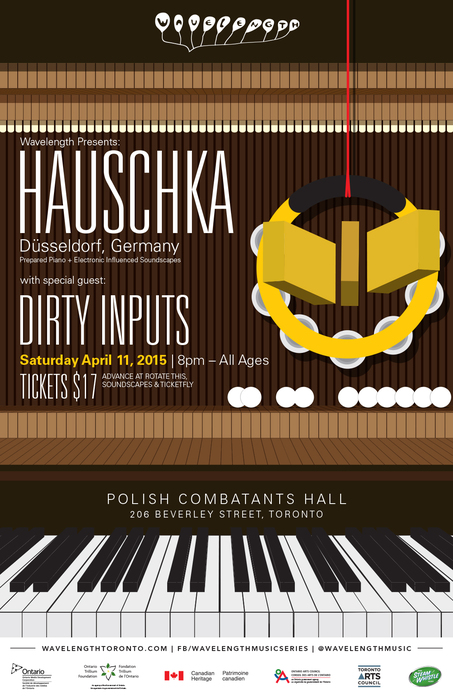 Apr 11

Polish Combatants Hall

8:00 PM

All Ages
Wavelength Presents:
HAUSCHKA
Düsseldorf, Germany
Prepared Piano + Electronic Influenced Soundscapes
with special guest: DIRTY INPUTS w/ visual projections by Marinko Jareb
Saturday April 11, 2015
Polish Combatants Hall
206 Beverley Street, Toronto
8pm – All Ages
Tickets $17 advance at Rotate This, Soundscapes & Ticketfly
OR $20 AT THE DOOR.
About the artist
Hauschka (a.k.a. Volker Bertelmann) is an independent experimental musician based in Dusseldorf, Germany who is internationally recognized as a 21st century exponent of prepared piano technique, a tradition dating back to late 19th and early 20th century French composer Erik Satie. The piano is prepared when "preparations" (consisting of nearly any conceivably applicable object or material) are inserted between the strings or onto the hammers of the instrument; a wider application of the term takes in all manner of additional modifications that expand the sonic and operative possibilities of the piano.Hauschka has successfully combined the chamber music aspect of prepared piano (see composers Henry Cowell, John Cage, Christian Wolff, Max Richter, Maurice Delage, and Arvo Pärt) with pop, rock, and electronic sensibilities.
Hauschka's music might be said to reference (inadvertently perhaps) all of these aspects of the prepared piano equation, and he could even be regarded as a conceptual cousin ofDenman Maroney, Erik Griswold, Sylvain Chaveau, and Anthony Pateras. His playfully repetitive constructs, which certainly reflect the influence of Satie, are also at times reminiscent of early keyboard works by Philip Glass or something from out of the minds of Terry Riley and Steve Reich. His best work suggests the achievements of Frank Pahl,Pascal Comelade, Yann Tiersen, and Henry Brant as well as the self-perpetuating modalities associated with gamelan. Hauschka, who with Luke Sutherland and Stefan Schneider is a member of Music A.M., has collaborated with Torsten Mauss to actuate the club/electronic duo Tonetraeger. Bertelmann often releases more than oneHauschka album a year, such as 2005's Substantial and Hauschka: The Prepared Piano and 2007's Versions of the Prepared Piano and Room to Expand. With 2008's Ferndorf, an homage to his hometown that featured a string duo, Bertelmann reached a new level of prominence; the Snowflakes and Carwrecks EP followed in 2009. Hauschkacollaborated with San Francisco's Magik*Magik Orchestra on the following year's full-length Foriegn Landscapes, while 2011's Salon des Amateurs featured members of Calexico and mum. Bertelmann returned in 2012 with Silfra, a collaboration with violinist Hilary Hahn that was inspired by Iceland's Silfra rift. For his 2014 solo album Abandoned City, Hauschka used some of the world's most famous ghost towns as a metaphor for the "sense of hope and sadness" he feels when composing music. –AllMusic.com
SET TIMES:
Dirty Inputs – 9pm
Hauschka – 10pm
Seating is first come, first served, so get there early! Doors at 8pm.
Polish Combatants Association Branch 20 (SPK) is located at 206 Beverley Street, south of College. The concert hall is on the second floor. There is an elevator for those who require wheelchair access.
IMPORTANT NOTE ABOUT TRANSIT:
The intersection of College & Spadina is closed for construction, so plan extra time to get to the show. The College streetcar is diverted to Dundas between Ossington and Bay Streets, while the Spadina streetcar is being replaced with a bus (Spa-ba-ba-ba-ba-ba Spadina Bus!) that runs along Beverley Street between Dundas and Harbord northbound – right outside the venue! – but along Bathurst going southbound.
CASH ONLY / NO A.T.M. ON SITE!
Please bring sufficient cash for coat check, refreshments and MERCH.