July 7

St. Anne's Parish Hall
651 Dufferin St. Toronto ON
8:00PM
All Ages
$20 in advance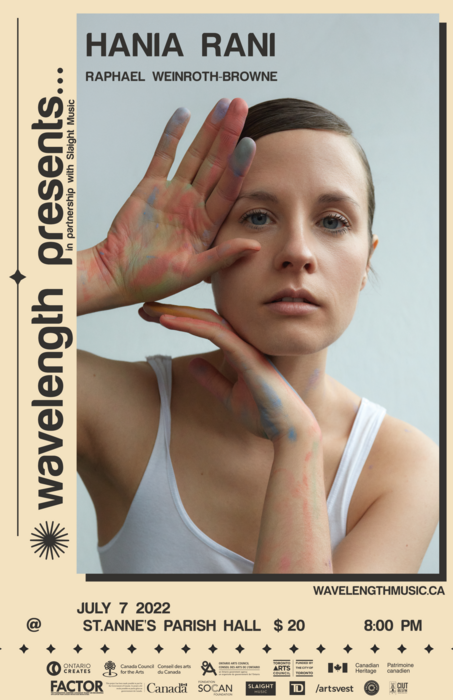 July 7

St. Anne's Parish Hall

651 Dufferin St. Toronto ON

8:00PM

All Ages

$20 in advance
THIS EVENT IS SOLD OUT!!
Wavelength Presents…
in partnership with Slaight Music:
Hania Rani (neo-classical piano genius from Poland – first Canadian shows!)
with special guest
Raphael Weinroth-Browne (Toronto looped cello soundscapes)
When: Thursday, July 7, 2022
Where: St. Anne's Parish Hall (651 Dufferin St. Toronto ON)
$20 in advance at ShowClix.com
All Ages / Licensed
Doors at 8pm
Hania Rani (Hanna Maria Raniszewska, born September 5, 1990) is a Polish award-winning pianist, composer and musician who, was born in Gdańsk (PL) and splits her life between Warsaw, where she makes her home, Berlin where she studied and Zurich, where she often works. Her debut album'Esja', a beguiling collection of solo piano pieces on Gondwana Records was released to international acclaim on April 5, 2019, earning Rani two prestigious Fryderyk Awards in recognition from the Polish music industries very own Grammys.
Her follow-up sophomore album, the expansive, cinematic, 'Home', was released on May 15th 2020 on Gondwana Records and finds Rani expanding her palate: adding vocals and subtle electronics to her music as well as being accompanied by bassist Ziemowit Klimek and drummer Wojtek Warmijak. The album earned Rani another notable accolade of 'Best Composer', a further acknowledgement from Fryderyk with Rough Trade including it in their essential 'Albums of the Year'. 
In January 2022 Hania has released the album 'Live from Studio S2'. The tracks were recorded at Polish Radio Studio and contain rearrangements of songs from previous albums.
At the moment Hania is working on a new album, works on a few scores and prepares herself for a big international tour.
—
COVID Protocols:
Your safety is our primary concern. Live event protocols are likely to change month to month. At this time, audience members aged two and older are strongly encouraged to wear face coverings while on the venue property, except when actively eating and drinking. If you are feeling ill, please be considerate and stay home to rest up.
Accessibility:
St. Anne's Parish Hall is not currently wheelchair accessible due to stairs (one half-flight to the main entrance, and one flight to access the washrooms). For all other accessibility requests, please contact us at info@wavelengthmusic.ca
Audience Policy:
Wavelength respects the rights of each member of our diverse audience and is committed to providing an environment in which everyone can feel safe. Any behaviour which could reasonably be perceived as physically, emotionally, or mentally harmful to individuals at Wavelength events will not be tolerated. This includes: racism, sexism, homophobia, transphobia, body shaming, ableism, ageism, and all forms of violence.
Please be respectful of others and help Wavelength create a fun and safer space for everyone. If you need help, or see others in need of help, please talk to a Wavelength staff member or volunteer.
For information on Wavelength's Code of Conduct and Anti-Harassment and Violence policies, please go here.