Nov 9

The Monarch Tavern
12 Clinton St.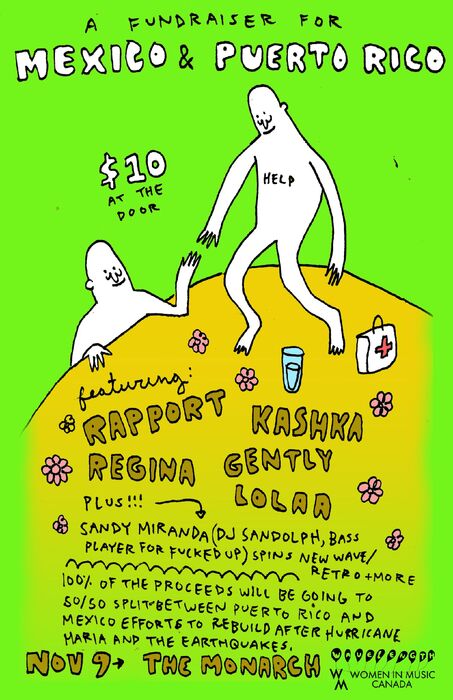 Nov 9

The Monarch Tavern

12 Clinton St.

8pm

$10
Wavelength Music Series x Women In Music Canada x LOLAA presents…
A FUNDRAISER SHOW FOR MEXICO & PUERTO RICO!!! 🇲🇽 🇵🇷
We are going to be raising funds with some of our amazing friends, and we'll need your support!
100% of the proceeds will be going to 50/50 split between Mexico & Puerto Rico efforts to rebuild after hurricane Maria and the earthquakes.
Featuring performances from… LOLAA + Regina Gently + KASHKA + Rapport + After Party with DJ SANDOLPH (Sandy Miranda, Bass @ Fucked Up)
Drums, bass, movement, rhythm, pop-infused vocals and no-limits songwriting. LOLAA in its current form takes inspiration from Latin American 80's pop music/icons. The project became a mix of all the ideas the Mexican/Canadian sisters had in their heads, a cultural collide of colours and sounds. LOLAA released their self-titled EP this year.
Formerly Light Fires, Regina Gently is currently at work on a debut full length release. Same package brand new sound. High kicks, deep splits, fierce tongue and a soft touch.
Never one to sit still, over the last decade Kat Burns has been slowly creating an extensive body of work. She's recently released her third album -Relax- from her 'folkpoptronica' project, KASHKA, and it's a dreamy blend of vibes and silky arrangements. She'll be performing a special solo set for us.
Rapport is a Pop group formed in Toronto that makes fun sad 80's prom music over which to roll your movie credits, or drive pensively off into the distance.
+ After Party with DJ SANDOLPH spinning tunes into the night…
Sometimes, you'll find her playing bass in Fucked Up. Other times, you'll find her playing proto-punk, post-punk, power-pop, new wave, and dream-pop. In both instances, there is sweat. Lots and lots of sweat.
$10 @ the door
Doors @ 8pm
Special thanks to Paul Jacobs for the RAD poster design!!