July 12

Scadding Court Community Centre
707 Dundas St. W.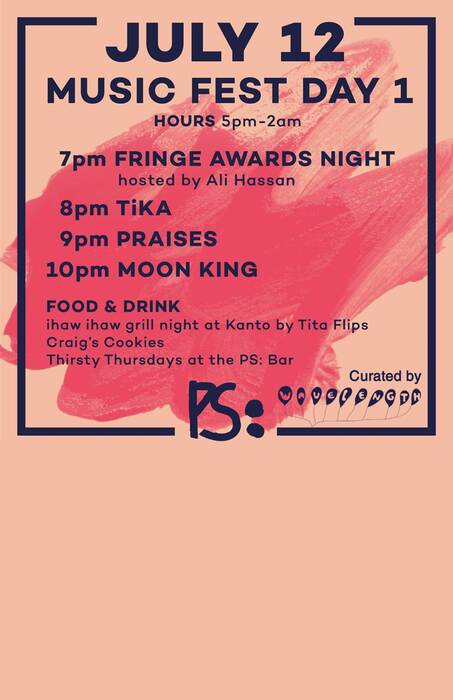 July 12

Scadding Court Community Centre

707 Dundas St. W.

7pm

All Ages

FREE
Curated by Wavelength
Thursday July 12
7PM – FREE
Fringe Festival Postscript Patio @ Scadding Court Community Centre, 707 Dundas St. W.
Wavelength Music is thrilled to collaborate with the Fringe Festival, as our organizations share similar aims to help talented emerging artists take those important first steps towards reaching a wider audience. At the Postscript Patio, we have the unique opportunity to help create a vibrant new public space in downtown Toronto, where the commotion of creativity is increasingly being edged out. Our curated artists, TiKA, Praises, and Moon King, span a range of genres and moods, from summery R&B/soul to pensive indie-rock to ecstatic electro-pop. We hope that Wavelength's presence on the Postscript Patio will give Fringe-goers the opportunity to relax, connect, and discover something new.
8pm: TiKA
TiKA is an artist, DJ, creator, cultural producer, TV/Online personality, activist, and advocate for the empowerment of female artists and creators. Her EP's, "Some Things Are Better Left Unsaid" + "Carry On" have received critical acclaim for her voice, her energy, her love, her music. She has opened for heavyweights like John Legend + NAO and is being coined as an incredible performance artist + visual hypnotist. Complex Magazine listed TiKA as "One of the most prolific creatives in Toronto."
9pm: Praises
Praises is the inner monologue of Beliefs co-front Jesse Crowe. Within this project is the quiet conversation, the love and the loss and the lessons that can't live in the public forum of a full band. With influences from Nick Cave to Portishead, Praises pull from both a masculine and feminine struggle.
10pm: Moon King
Moon King is the pop music project of Daniel Woodhead, often performing as Daniel Benjamin or Daniel BW. His music has been described as dream pop, electronic pop, or indie rock, and has shifted recently to include disco, synthpop and house music.