---
---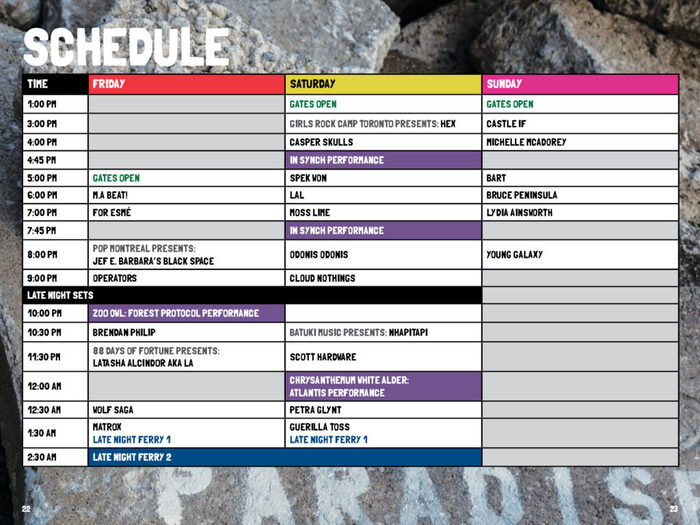 ---
Your Emcee for (Most of) the Weekend
KURT MARBLE

Kurt Marble is quickly becoming the slacker rock standout of Toronto's nu-grunge scene. Mixing the fuzz of Ty Segall, the glam of T. Rex and the indie sensibilities of Pinkerton-era Weezer, Marble and co. are creating infectious and noisy pop'n'roll that could stand toe-to-toe with any of your favourite '90s records. Come close and get glittered. Watch out for some guest hosts including the mysterious Pun D-MC.
Your Camp Wavelength DJs
DJ ARP-2600
Friday 5-10PM

Co-founder of Canadian underground electronic music blog Silent Shout, also DJs monthly at The Piston for Synthesexer, a night showcasing the best international electro-pop.
"Can You Feel It?"
Friday 10PM-3AM

DJs Valerie Dour and Brandon Gibson-DeGroote of RAVETAPES/Most People take you on a trip through the golden years of late '80s/'90s Rave. Definitely bringin' the '90s rave anthems in full force.
DJ Andrew Lochhead
Saturday 1-3PM

Best known to Torontonians as part of house & techno crew breakandenter, Andrew will showcase his eclectic collection ranging from indie and experimental music to '80s synth-pop, post-punk and new wave, to disco, boogie and funk.
Pursuit Grooves (DJ Set)
Saturday 3-10PM

Vanese Smith's sound can be described as "Futuristic Tribal Psychedelics", combining experimental electronic melodies and atmospherics with deep bass rhythms.
Coarse Language (DJ Set)
Saturday 10PM-3AM

Coarse Language is the solo moniker of Toronto musician Jon Schouten (Teenanger, Wrong Hole). Coarse Language celebrates what we have heard all of our lives but never listened to.
DJ Barbapoppa
Sunday 1-10PM

Narcoleptic beats minced with slabs of psych and dub. Jay Pollard of Invocation/Array weaves a tangled web of vinyl molasses, tailor-made for broadcast over the loudspeakers of a forbidden weekend. Wake to the groggy ambience, for one last, perfect head nod.
Arts & Activities
ATLANTIS
CHRYSANTHEMUM WHITE ALDER
Performance: Saturday 12:00AM

With limbs wrought from seaweed and debris, an ancient Atlantean priestess has awoken from a thousand-year sleep and sings of the eons through her vessel. She beckons ancient Gods to arise and witness the humyn being's struggle to transcend global catastrophe. In light and hope, may we awaken the waters to heal and soothe our wounds.
BUNZ
Activity Area

BUNZ IS ALL-CAPS-LEVEL EXCITED to be involved with Camp Wavelength this summer. As you may know, we're a community of barterers that made big changes in how we build communities in Toronto! We have an awesome trade table in the works where you can trade away your old stuff for new stuff! Maybe your tent pegs for our DVD of Matlock? Or we'll give you a Bunz shirt for… a high five! We'll bring the basics — you bring the amazing! More exclamation marks!!!!! bunz.com
CANDY DREAMS
MAIREN DOYLE
Live Painting Throughout Weekend

Candy Dreams is a live painting session done with acrylic paints on crezon plywood. It is a medium-scale, cartoon-inspired representation of the saccharine subconscious of Toronto's Mairen Doyle. Check out her work and you'll be sure to sweeten up your peepers. sweetiemagic.tumblr.com
CLOUD ALLEY
HILARY MARTIN
Installation

Tucked in the narrow passageway between Artscape Lodge and the Courtyard Garden, visit the clouds of Cloud Alley. Changing with the weather, the time of day, your mood, it's a spot to slow down and track the pulse and drifting, shifting soundscape of the festival. Hilary's installation work has been programmed at Nuit Blanche and Electric Eclectics. Thanks from the artist to the Open Studio crew at InterAccess.
CLOUDED PASSAGE
MELISSA GOLDSTEIN
Installation

Clouded Passage is inspired by the fog that rolls in off the lake and through the trees on Toronto Island, transforming once familiar spaces into otherworldly, surreal landscapes. The installation creates a surreal, transitory space for Campers that represents and illuminates their passage from one location, mood, and/or state of mind, to the next. melissagoldstein.com/art
COTTONWOOD MIRROR DISPLACEMENT
VERSA AND EMILY HARRISON
Installation

By day, it's a dreamy getaway with twinkling lights dancing along to the bands. By night, it will be a full-on disco as coloured lights and trippy reflections obliterate a sense of place and time. This is the first immersive environment collaboration between A/V performers Versa and multi-disciplinary artist Emily Harrison. versavisuals.com, IG @emilygharrison
DANCE DANCE PARTY PUPPETS
ANDREW LAMB
Performances Throughout Weekend

Dance Dance Party Puppets is a collection of large scale puppets built over the last two years by Toronto's Andrew Lamb. They have performed at the AGO, ROM, Inside/Out Film Festival, Long Winter Fair, the Toronto Reference Library, and Most People's EP release at Wavelength. Get ready to dance dance, as these creatures will pop up without warning, to energize the Camp WL crowd throughout the weekend! dcmism.com
EXPLORATION RESERVE
KATHRYN FAREWELL
Activity Area

Conceived by Kathryn Farewell, Exploration Reserve is a multidisciplinary treasure hunt designed to take players on a series of interactive expeditions to different regions of the Island. Inspired by the wonder of nature, music, history, found and saved objects, and the infinite spin of the Earth, it's a love letter to the city, the Island, and the music and arts scenes that have kept its author's heart and spirit vital amongst all the quiver.
FEELING FEELINGS
BENJAMIN KAMINO
Performances Throughout Weekend

Benjamin Kamino a.k.a. el fuego will be around camp. Thinking about you, thinking about the artists present, and thinking about dance. He may ask you to do something with him; you should say yes! He is very kind. You may see him doing something with someone else; you should jump in! This person, in this place, is all about doing what feels.
FIVARS
VIRTUAL & AUGMENTED REALITY PREVIEW
Activity Area – Saturday

FIVARS — the Festival of International Virtual & Augmented Reality Stories, Toronto's original VR stories festival — returns to Camp Wavelength for its second year, where you can see a special preview of carefully selected groundbreaking Canadian premieres in 360 degrees from around the world. fivars.net, Twitter/IG @FIVARStories
IN SYNCH
AUBYN O'GRADY
Performances: Saturday 4:45PM & 7:45PM

In Synch is an amateur synchronized swimming team based out of Lake Ontario, and an audience favourite at the inaugural Camp Wavelength in 2015. A project by Aubyn O'Grady, In Synch is inspired by the movement and costuming of competitive synchronized swimming and is performed by members with varying degrees of swimming experience. For this year's performances, musician Cory Latkovich will be accompanying the swimmers.
LITERARY FORTUNE TELLING
DIASPORA DIALOGUES
Activity Area

In celebration of Camp Wavelength's "Head in the Clouds" theme, Diaspora Dialogues is initiating a Literary Fortune Telling event featuring some of the city's best emerging and established writers, such as Ibi Kaslik and Sheniz Janmohamed. Turning to the stars (of great texts) to answer your burning questions, Camp Wavelength attendees can get their palms read and fortunes told. diasporadialogues.com
LITERARY READINGS
HOSTED BY BRAD CASEY
Posi Space Throughout Weekend

This collaboration between The 4 Poets magazine and Heretical Objects Cooperative features readings by Fan Wu, Lena Suksi, Ashley Opheim, Ali Pinkey, Stephen Thomas, Monica McClure, Brooke Manning, and Brad Casey. The readings of original work will act as bedtime stories, providing a space for participants to feel safe and comfortable. the4poets.com, hereticalobjects.com
MATTENDO
MATT BECKETT
Activity Area

Xbox? It sux. PS4? PS bore. Oculus Rift? As if! Created by long-time musician Matt Beckett of The Bicycles, Mattendo is a one-of-a-kind video game console debuting at Camp Wavelength.
MURMURATION
FRANZISKA BEELER
Installation

Murmuration is a dynamic outdoor installation that simulates a swarm of birds taking off towards the sky, almost like a cloud dissolving. Specifically conceived for Camp Wavelength, the installation is comprised of dozens of small origami-like geometrical shapes that include a slow pulsing LED light. cherefrancoise.com/soundscapes
OPEN FORTRESS
Performances Throughout Weekend
— Festival Performance Art Curators —


Open Fortress is a collective of dancers organized by Allie Blumas, Anna Mayberry, Lee Gelbloom, and Jolyane Langlois. Open Fortress aims to support its members by encouraging collaboration and sharing space, as well as creating and showing physical performance in non-traditional "dance world" settings.
POSI SPACE
POSI VIBEZ
Installation/Activity

POSI VIBEZ are a collaborative multimedia art collective based in Toronto, and your new favourite camp counsellors. This year POSI VIBEZ are pleased to present the POSI SPACE, a place to chill out, fill yourself with posi affirmations and write a postcard to yourself. Come soak in the niceness.
VECTOR LAND
BASEMENT STUDIO PROJECTS
Installation

Vector Land is a large-scale minimalist environment of structures made by simple hardware-store materials to replicate early computer graphics. Wireframe shapes, planes, vectors, grids and polygons speak not only to the first computer-based-images but also to today's culture of 3D modeling.
ZOO OWL
FOREST PROTOCOL
Installation + Performance: Friday 10:00PM

Bryan Sutherland has garnered a reputation for his sci-fi alter-ego Zoo Owl, known for his eerie techno and immersive stage design. This Camp Wavelength installation "Forest Protocol" marks a departure from his typical electronic live show, drawing on the natural world for materials. This will culminate in a ritualized performance that pays homage to the Earth and her uncompromising power.
---
<!- View not found ->
---