GETTING HERE
TAKE THE FERRY:
Toronto Island Ferries run from Jack Layton Ferry Terminal at Queens Quay & Bay.
Ferry fare $7.50 (Adult) round trip.
Take Hanlan's Point ferry.
Check the Summer Schedule: toronto.ca/parks/island/ferry-schedule.htm
Ferry line-ups can be long on summer weekends so give yourself extra time to get to the Island.
RIDE YOUR BIKE – OR ENJOY THE WALK:
Festival venue located on the main island roadway (443 Lake Shore Rd.), directly opposite Gibraltar Point lighthouse.
20-25 minute walk or 5-10 minute bike ride from Hanlan's Point and Centre Island ferry docks.
Bike racks available – first come, first served.
GETTING HOME
LAST FERRIES BACK TO THE CITY: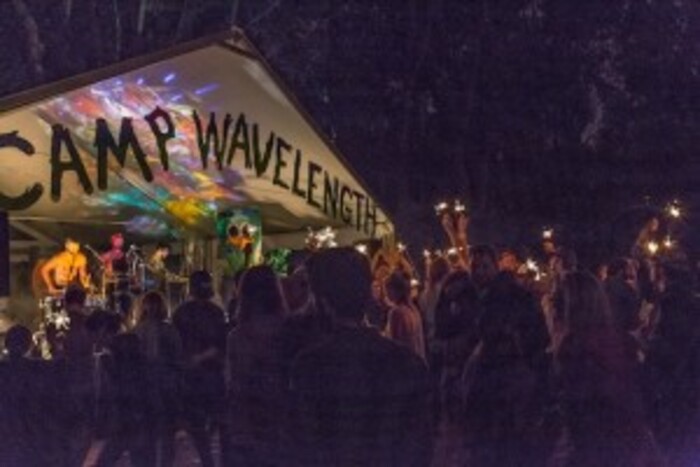 Hanlan's Point – Friday 10:30pm | Saturday & Sunday 11:15pm (20 minute walk)
Centre Island – Friday-Sunday 11:45pm (20 minute walk)
Ward's Island – Friday 11:30pm | Saturday & Sunday 11:45pm (45 minute walk)
Headliners will finish in time for festival-goers to catch the last ferries of the night.
LATE NIGHT FERRY
Stay late, dance all night to awesome late night sets and take our privately chartered ferry, the Ste Marie I.
Runs 1:30AM and 2:30AM on Friday and Saturday nights for non-campers to get back to the city.
Departs from Artscape Gibraltar Point private dock, 2 minute walk from Camp Wavelength site.
Docks city-side at Harbourfront Centre.
Sold separately — tickets available for $8.00 per person at the box office or FREE with Wild Turkey Canada giveaway!
Ticket quantities are limited and first-come, first-served.
Pro Tip: Order a taxi or Uber on the boat ride back to the city!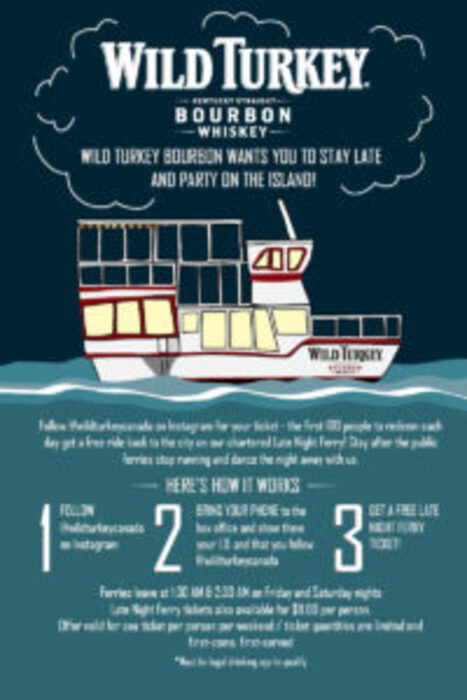 WILD TURKEY BOURBON WANTS YOU TO STAY LATE AND PARTY ON THE ISLAND!
Follow @wildturkeycanada on Instagram for your ticket — the first 100 people to redeem each day get a FREE ride back to the city on our Late Night Ferry. Stay after the public ferries stop running and dance the night away with us.
Here's how it works:
Follow @wildturkeycanada on Instagram.
Bring your phone to the box office and show them your I.D. and that you follow @wildturkeycanada.
Get a free Late Night Ferry ticket!
Offer valid for one ticket per person per weekend.