June 15

The Jam Factory
2 Matilda St.
9PM
All Ages
$15 adv | $18 at door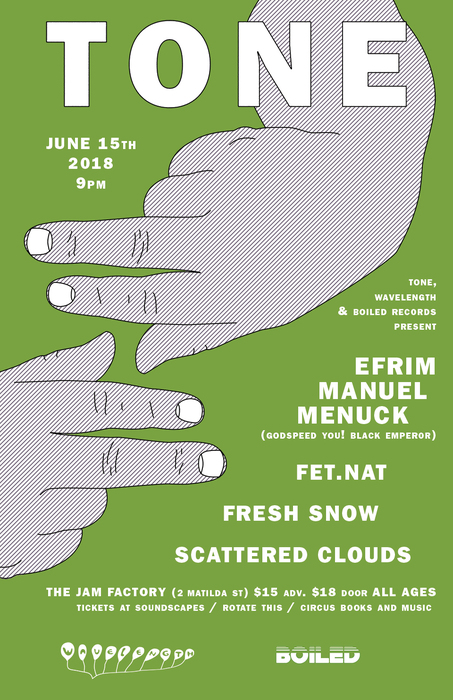 June 15

The Jam Factory

2 Matilda St.

9PM

All Ages

$15 adv | $18 at door
Wavelength at TONE Festival
Co-presented with Boiled Records

Featuring:
EFRIM MANUEL MENUCK
FET.NAT
FRESH SNOW
SCATTERED CLOUDS
Friday June 15
The Jam Factory, 2 Matilda St.
9PM – All Ages
Tickets $15 Adv / $18 Door
TONE 4-Show Pass: $55 / TONE All Show Pass: $95
Passes & Tickets available at: Circus Books and Music, Rotate This, Soundscapes & online through TicketScene: https://www.ticketscene.ca/events/21123/
Wavelength collaborates with Toronto's community-driven experimental music festival TONE to bring you this stacked bill at the Jam Factory June 15!
About the artists:
EFRIM MANUEL MENUCK (https://cstrecords.com/efrim-manuel-menuck)
Founding member of Godspeed You! Black Emperor and Silver Mt. Zion, Efrim Manuel Menuck returns to Toronto accompanied by Kevin Doria (Growing) to play some heavy material of his newest solo record Pissing Stars out now on Constellation Records. Blossoming guitar and synth swells mingle with each other over drum machine beats. Menuck's voice glows in its lo-fi effected glory, as the layers of reverb slip away. Synth tones glisten in a dance with warbling electronics. Efrim's guitar work is as full and enveloping as ever.
FET.NAT (https://fetnat.bandcamp.com/)
Hull, Quebec weirdos pump out the angular no wave jams. Demonic vocals breathe over tight rhythms, locked-in guitar grooves, and spaced-out sax squeals. Pulling percussive tendencies out of some Warp meets 99 Records vortex, Fet.Nat bounces from abrasive textures to beat-driven gestations. Samples and electronics play with errant saxophone howls. Drawing influence from NYC no wave, the spastic tendancies of noise rock bands like Melt Banana, Old Time Relijun and contemporary electronic experimentalists, this mutant baby is a must see live experience! Big up Hull!
FRESH SNOW (http://freshsnowmusic.com/)
Toronto kraut quartet adventures in the round. Undying synth lines and guitar fuzz merge into one vibrating beast driven by a drum beat locked into the warbling distortion. More space music for the 22nd century. Constantly moving forward, building the humming, buzzing, clattering structure that is Fresh Snow. Rough guitar notes cut through pulsating fuzz to converse with formless electronics. Hard psych noodling becomes a back drop for groove repetition. Hints of jangle pop dig themselves out of a squealing wall of sound. Don't miss this space kraut unit about to alter life as know it.
SCATTERED CLOUDS (https://scatteredclouds.bandcamp.com/)
Another Hull, Quebec mutation coming to us via Boiled Records, Scattered Clouds are the soundtrack to some cold-war science-fiction apocalypse. Heavy bass tones rumble underneath cold synth blasts and swells. Clattering noise deconstruction. Driving percussion form the heart of this wayward world. Krautrock with a dark industrial tinge, basslines almost bounce in this chilling landscape. Find these guys down some back alley jamming in a shipping container.