Southern Ontario mini tour: Guelph
Sep 8

Magnetic Sound Studios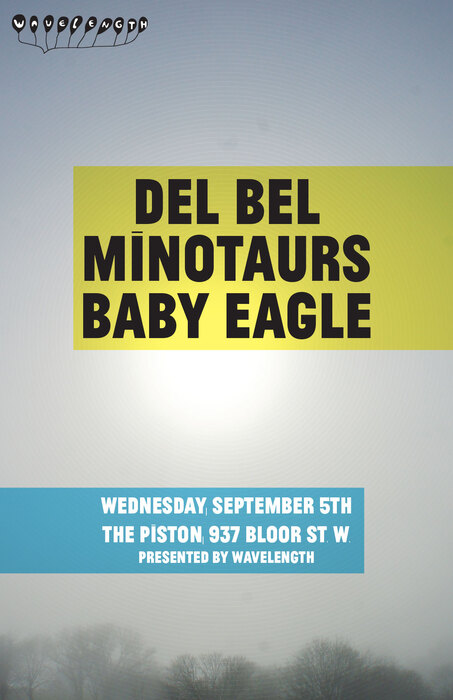 Sep 8

Magnetic Sound Studios

9:00 PM
Join 2012 Wave-faves Del Bel as Wavelength co-presents their Southern Ontario mini-tour – with guests including Minotaurs and Baby Eagle – with stops in Toronto, Hamilton, London and Guelph!
Toronto – Wednesday, September 5th
The Piston, 937 Bloor St. W.
9pm • $8
(Minotaurs, Del Bel, Baby Eagle)

Hamilton – Thursday, September 6th
The Casbah, 306 King St. W. (co-presented with Cincinnati Records)
(Del Bel, Baby Eagle, Grey Kingdom)
London – Friday, September 7th
APK Live, 340 Wellington St. (co-presented with Half a Dino)
9pm • $7 advance / $10 door
(Olenka and the Autumn Lovers, Del Bel, Minotaurs, Baby Eagle)
Guelph – Saturday, September 8th
Magnetic Sound Studios, 98 Grange St.
(Del Bel, Minotaurs, Baby Eagle)
DEL BEL
Del Bel spent about a year and a
half recording their debut album. It began as a personal recording
project of Tyler Belluz, evolved into a collective of players ranging
from all types of disciplines, and finally morphed into the live band it
is today. Stylistically Del Bel embodies an eerie cinematic sound
infused with darkened soul and surf rock qualities.
MINOTAURS
Inspired heavily by the work of legendary Nigerian musician Fela
Anikulapo-Kuti, Minotaurs take the funky, slinky backbone of Afro-beat
and apply it to the indie-rock-folk songs of Nathan Lawr. Its propulsive
rhythms and syncopated horn arrangements are catchy, inspiring, and
mind-boggling funky all at once.
BABY EAGLE
Steve Lambke
writes songs as a staging ground for collaboration with other musicians.
They are punk rock songs that don't often sound like punk rock songs. A
communion in an alienating world. Steve runs You've Changed Records in
collaboration with Daniel Romano and is a former member of the
Constantines.
Poster by Derek Ma.
Photo by Frank Yang / Chromewaves.