July 9

Lynx Music
260 Emerson Ave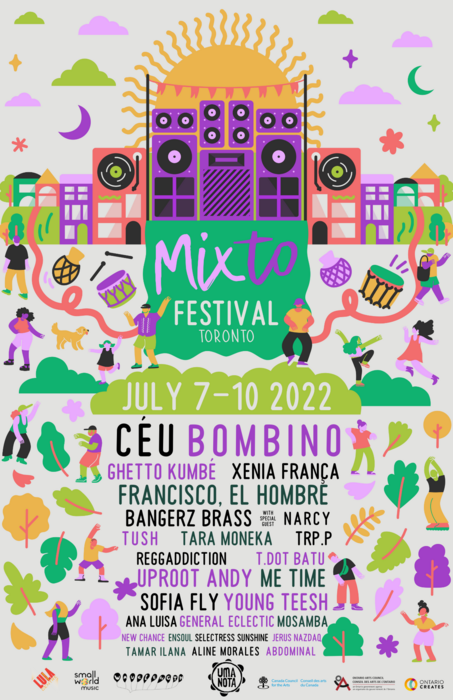 July 9

Lynx Music

260 Emerson Ave

3PM

All Ages
A co-presentation with Small World Music & Uma Nota Culture…
Bombino
(from Niger – Tuareg desert blues guitar genius!)
as part of Mixto Festival
When: Saturday July 9th
Where: Lynx Music (260 Emerson Ave) – outdoor show
Doors at 3pm, Bombino at 7pm
Tickets: $20 ($5 off) if you use the Wavelength discount code here! Use promo code WAVELENGTHXMIXTO
* Youth aged 12 and under accompanied by a guardian attend for FREE *
Mixto Festival is back for 2022 with an expanded format and a truly international lineup! Wavelength is thrilled to co-present Nigerien guitarist Bombino as part of the Saturday night lineup of Mixto, alongside Bangerz Brass, Uproot Andy and other fantastic acts.
Born in 1980 in the nomadic Tuareg encampment Tidene, Bombino is a Nigerien desert blues/Tuareg singer and guitarist. He is a member of the Ifoghas tribe, of the Kel Adagh Tuareg federation. The Tuareg, known amongst themselves as the Kel Tamasheq, have long been recognized as warriors, traders and travelers of the Sahara Desert – as a people of grace and nobility as well as fighters of fierce reputation. Bombino's latest album, 'Live In Amsterdam' was recorded at a performance in November 2019 and released in November 2020 (Partisan Records).
Join us for four consecutive days of music, food, fun, and friends! Thursday at Lula Lounge, and Friday-Sunday in a transformed outdoor lot in west-end Toronto.
For the full festival lineup and details, visit www.mixtofestival.com