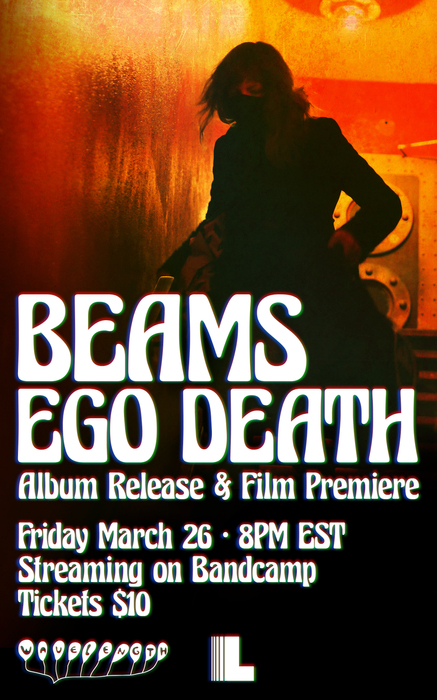 Mar 26

8pm EDT

All Ages

$10
BEAMS
Ego Death album release + film premiere
Presented in association with Wavelength
Friday March 26 @ 8PM EDT
$10 CAD or more (includes live stream ticket and digital album)
Streaming on Bandcamp. Once a ticket is purchased, you will be directed to a streaming link on Bandcamp!
Toronto psychedelic folk-rock band Beams release their third album, Ego Death, on March 26, 2021 – along with the premiere of a film by director Samuel Scott to mark the occasion.
Part love letter to Toronto and part documentary concert film during a global pandemic, EGO DEATH is a celebration of resiliency in uncertain times. With remote audio engineering, multiple safety protocols, and a dedicated crew, Beams was able to create a new kind of live concert experience in EGO DEATH.
Back in early 2020, Beams set out to do live recorded versions of each song on the upcoming record. As the project got underway, so did the pandemic. The resulting documentary concert film chronicles the band as they film live performances at arts venues important to their collective history, all while struggling through a global pandemic which has crippled the music industry.
The film sees the band performing the songs from Ego Death at iconic Toronto venues like the Horseshoe Tavern, the Dakota Tavern, and The Boat – just days before it closed for good – as well as alternative spaces like Matt Durant Studio gallery, Union Sound Company recording studio, and the band's own rehearsal space, where Wavelength resident artists General Chaos Visuals and Roxanne Ignatius provided visuals for one song.
Join us for the livestream film premiere of Beams' Ego Death, on the evening of the record's release! The album is available for pre-order via Bandcamp.
What the press are saying about Ego Death:
"Darkly spellbinding…. life-affirming." – American Songwriter (US)
"Centering powerful walls of guitars around their trademark celestial harmonies" – Under The Radar (US)
"Swirling guitars, beautiful vocal layers and a delicate balance of grit and beauty" – Higher Plain Music (UK)
"Soothing, soulful, and downright blissful" – Eat This Music (AUS)
"Infectious…. we're in for something pretty special." – The Indie Machine
"Soaring and propulsive… spine-tingling." – Irregular Dreams
"Gorgeous vocal harmonies, '70s folk rock influences, and some perfectly placed vibraphone" – Tinnitist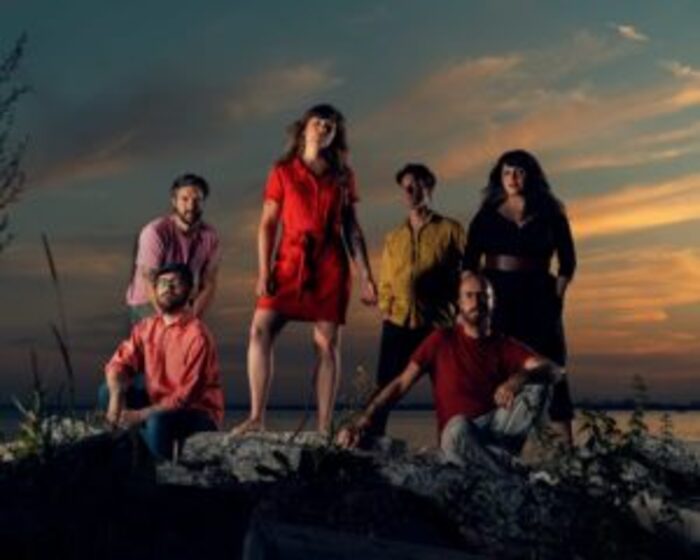 About Beams
Beams are a psychedelic folk-rock band from Toronto. Their 2021 album Ego Death sees Beams moving in a bold new sonic direction – one that puts loud guitars centre-stage, but still makes room for the airy acoustic instrumentation that defined its sound until now. This evolution was the result of singer/songwriter Anna Mernieks-Duffield choosing to move from banjo to electric guitar and take a bigger role at centre stage – a move supported by the rest of the band. Anna and vocalist Heather Mazhar's harmonies remain Beams' calling card, while the psychedelic textures blend with irresistible melodies to transport listeners to a higher plane.
The lyrics also take you on a journey: Ego Death is a narrative song cycle inspired by the concept of the "hero's journey" or monomyth. The archetypal heroic adventure, in which the protagonist goes on a journey from which they come back forever changed, resonated with Anna as she set off on her own quest. Ongoing mental health challenges had previously threatened her partnership with Beams drummer, Mike Mernieks-Duffield.
"I had a rough childhood. My trust issues made me break off our first engagement," says Anna. "And then in the aftermath, I decided to start getting therapy. Ego Death is a collection of songs about working through different stages of my life." Happily, the couple were married in the fall of 2019. In the end, Ego Death is about shedding past ideas of self and embracing the joy of transformation.
Tracked at Union Sound Company in Toronto by Alex Gamble (Fucked Up, Alvvays), Ego Death was recorded mostly live off the floor. Anna's newfound centrality as frontwoman brings the band full circle, back to the start of its origin story. Beams began in 2011, when she sent out an open invitation to fellow musicians to help her perform her songs. They honed their sound through residencies at Toronto's iconic roots-rock venues like the Dakota Tavern, as well as DIY shows in garages, basements, front porches, and living rooms.
The band connected with acclaimed producer Peter J. Moore (Cowboy Junkies) for their debut album, 2013's Just Rivers. The success of that record helped the band break out of Canada and into the US market, where they have become an audience favourite. That led to a connection with John McEntire (Tortoise, Broken Social Scene), who tracked their 2015 single, "The Gutters and the Glass." For their second album, Teach Me to Love (2018), Beams decamped to Toronto studio Union Sound Company (METZ, Weaves). While that record was the product of crisis and trauma, Ego Death is the joyful sound of recovery.