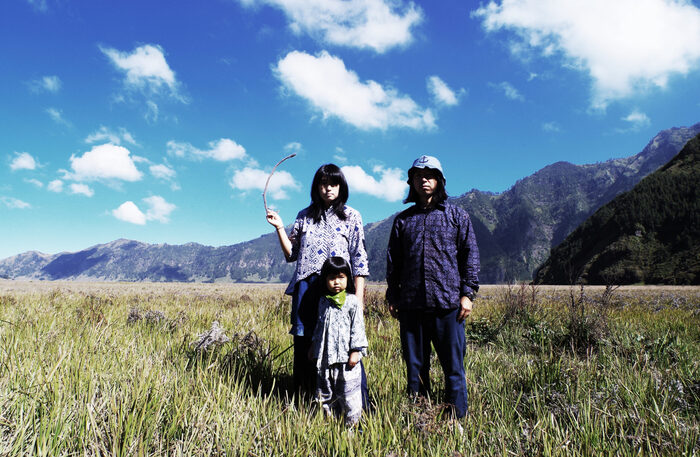 Tengger
TENGGER is a traveling musical family, made up of Pan-Asian couple, ITTA (from South Korea) and MARQIDO (from Japan), who create their brand of psychedelic New-Age drone magic through the use of Voice, Indian harmonium, and Toy instruments (played by ITTA) and synths & electronics (played by MARQIDO). The duo originally started out with the moniker "10" but since the birth of their son RAAI (who joins them on tour and playing Voice, Synth, Toy Instrument, Dance performance on stage) in 2012, have called themselves TENGGER (meaning 'unlimited expanse of sky' in Mongolian) to mark the expansion of the family. It also means 'huge sea' in Hungarian.
Travel, as spiritual experience in real environments, and the sound between the space and the audience have been central themes of their works. The family's yearly pilgrimages inform every aspect of their art.
In 2019, after signing a contract with Beyond Beyond is Beyond, a label in Brooklyn, New York, USA, <Spiritual2> album released in June received attention from media such as Pitchfork, FADER, Noisey(VICE), BBC Radio 6 music. and It was selected as Allmusic's Favorite Electronic album of 2019 and Treble's The 20 Best Electronic Albums of 2019, and the music video of the pre-released single "High" was also selected as Stereogum's Best 5 Videos of the week along with Billie Eilish and James Blake. Also, the album <Nomad> released in 2020 was selected as number 19 in UNCUT Magazine The Best of 2020 – Halftime, Allmusic Favorite Latin & Global Albums, Bandcamp Best Ambient Album in June 2020, and POPMATTERS 20 Best Electronic Albums of 2020. The new album <Earthing>, released on March 21, 2022, self-released on March 21, 2022 as the home label was torn apart due to the pandemic, but it is receiving favorable reviews from the media including Stereogum without any press release. and the album comes out via limited edition vinyl at the same time with an indie label from UK, USA, Austrailia, NOV 11th, 2022.
Le Guess Who? Festival in the Netherlands is famous for a festival that newly illuminates various artists through artist curation. TENGGER was invited to 2019 Le Guess Who? under the curation of Moon Duo, an artist belonging to Sacred Bones Records in the US, who had never had a face-to-face meeting. and the performance was selected by Dutch media 3voor12 as the 25 Best shows of Le Guess Who? Ranked #11 in 2019 along with Bjork, Efterklang, Moon Duo and more.
In 2020, TENGGER was invited back to the SXSW Music Festival, the world's largest music market in Austin. Actually at first we was invited in 2007, but at the time there was a regulation that I could not perform without a working visa, so we gave up on the huge cost of issuing a visa. It was scheduled to appear on four official showcase stages, including the SXSW Official Showcase of LEVITATION. but it was canceled due to the pandemic. also delayed and canceled planned summer EU tour schedules.
and the TENGGER family dispersed in Korea and Japan, and there were days when they could not meet, but around the winter vacation of RAAI, the Japanese government lifted the restrictions on family visitation visas, and finally the family met together again, and interviewed The WIRE Magazine in the UK.
And invited to the 2021 SXSW Music Festival Online Showcase, so TENGGER produced a live video at Studio Kyurt where we did 6 years DIY renovation, received favorable reviews from various media. In particular, NPR Tiny Desk host Bob Boilen selected TENGGER as one of the favorite SXSW 2021 discoveries released through All Songs Considered. After that invited for a remix work from Clipping. (Artist belonging to Sub Pop Records in the US) Their remix album series released on Sub Pop Records, halloween season.