Feast in the East 14.2 as part of Art Of The Danforth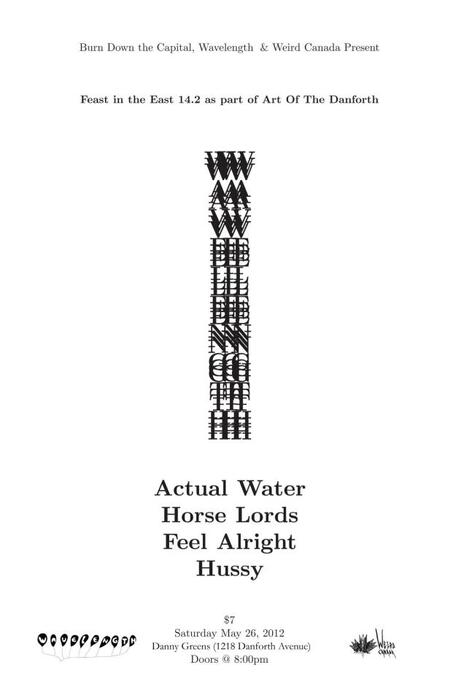 May 26

Danny Green's

8:00 PM
Wavelength, Weird Canada & Burn Down the Capital Present:
Feast in the East 14.2 as part of Art Of The Danforth
… with …
ACTUAL WATER
FEEL ALRIGHT
HORSE LORDS
HUSSY
**UPDATE** The show has been amalgamated as part of our favorite Feast in the East series and moved to a new venue in Toronto's East. Unique to Feast in the East is the new Art of the Danforth sub-series, which will see music, food, and psychedelics come together over three nights this May.
We are bulging (yes, bulging) with excitement over our mind-meld with Weird Canadaand Feast in the East!
Calgary's jangle-pop masterminds Feel Alright are joined in gnarled ceremony with Toronto's darlings of pop Actual Water. Local ruff-nex Hussy will begin the evening in shredding grandeur. Additionally, Baltimore's Horse Lords shall join in a cross-country union of celestial jammery.
The event will feature a Sicilian dinner (for only PWYC!) and environs by Rebecca Fin, Jessica Vallentin, and Keir Neuringer in addition to visuals by General Chaos.
Like, whoa.
Saturday May 26, 2012
Danny Green's (1218 Danforth Ave.)
9pm • Admission: FREE!
About the bands:
Feel Alright (Calgary, AB)
– file-under: granulated catch
Actual Water (Toronto, ON)
– file-under: grizzled paisley
Horse Lords (Baltimore, MD)
– file-under: ethno-krautpunk
Hussy (Toronto, ON)
– file-under: buzz and/or scuzz
(Band descriptions & show notes by the awesome dudes of Weird Canada!)